How-To
Build a Gateway Pergola
This cedar structure combines the look of traditional joinery with contemporary lines — all built with simple techniques.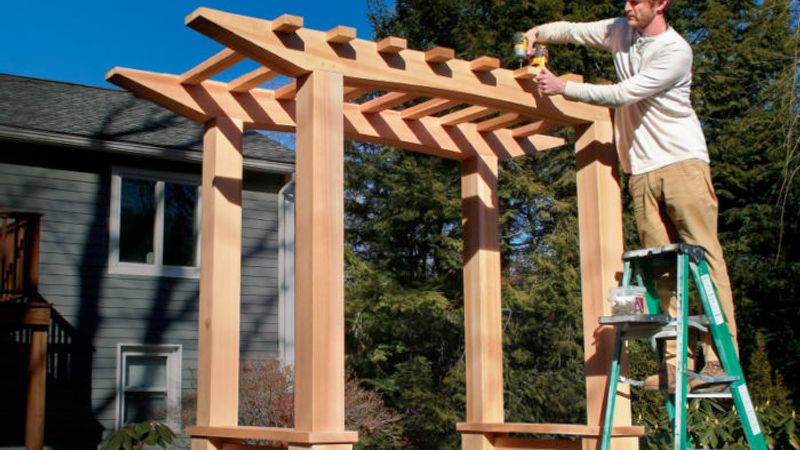 This video above shows how to quickly make a simple curved template, in this case, for a pergola constructed by Fine Homebuilding editor Justin Fink.
Synopsis: In this article, Justin Fink outlines the step-by-step process of building a cedar gateway pergola. He describes the contemporary, Asian-inspired design of the pergola and the materials used for the structural posts and beams. Beginning with the in-shop assembly, he gives instructions for building the timber-frame-style pergola with common power tools. He then moves to the site and shows the assembly of the prefab parts to complete the project.
When my friend Brian started talking about building an outdoor structure to create a threshold between his short gravel parking area and the front yard of his house, it was clear that a large pergola would be the ideal solution. Set atop a timber retaining wall and flanked by plantings, the pergola would create an informal, open gateway.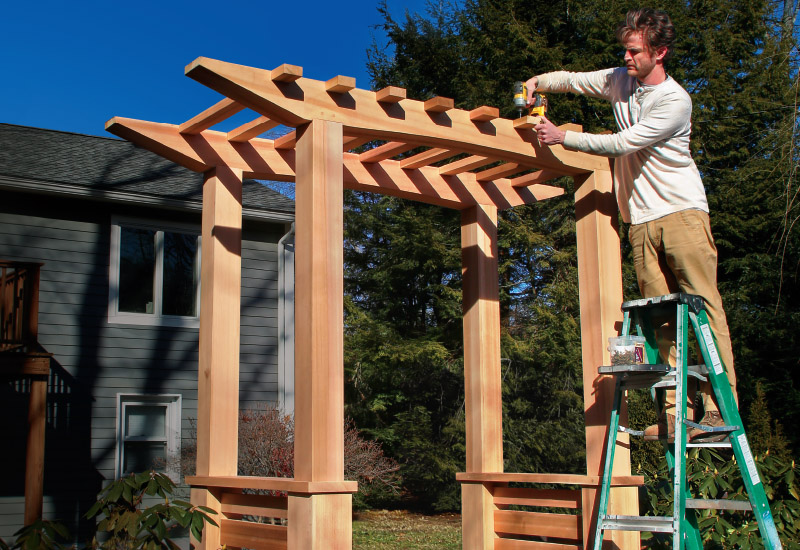 But, like any other widely available, mass-produced outdoor structure, store-bought pergolas have begun to suffer from inelegant designs, subpar materials, and haphazard assembly methods that place a high value on convenience at the expense of durability. I knew we could do better, so we set out to design a custom alternative. The design we came up with reflects Brian's contemporary, Asian-inspired taste, and could be built by anybody, regardless of whether they have access to the large timbers or specialized tools needed to erect a true timber-frame structure.
The pergola would become the first thing seen and passed through on the way to the house, so it needed to mesh with the architectural style of the home, which had been remodeled to have a somewhat contemporary exterior—lap siding mixed with vertical siding, paint mixed with natural wood, and several levels of landscaping, hardscaping, and attached structures. The look leans towards an Asian aesthetic, which also happens to be the basis of the Arts and Crafts style. So, it made sense to build on this concept by including the look of traditional mortise and tenon joinery and clean, square edges. The contemporary feel came into play with the incorporation of some Asian design elements—subtle curves, recessed purlins, and crisp horizontal lines—which became a good opportunity to deal with crucial issues of proportion. Because the space demanded a fairly large structure, we worked hard to keep it looking well rooted with a sleek, airy feel for the upper portion, flowing down to a substantial base.
For more photos, drawings, and details, click the View PDF button below:
View PDF