Podcast Episode 113 — Bringing Back Oakum
Radiator covers, mantels, brick walls, trimwork, whole-house design, and the Solar Decathlon.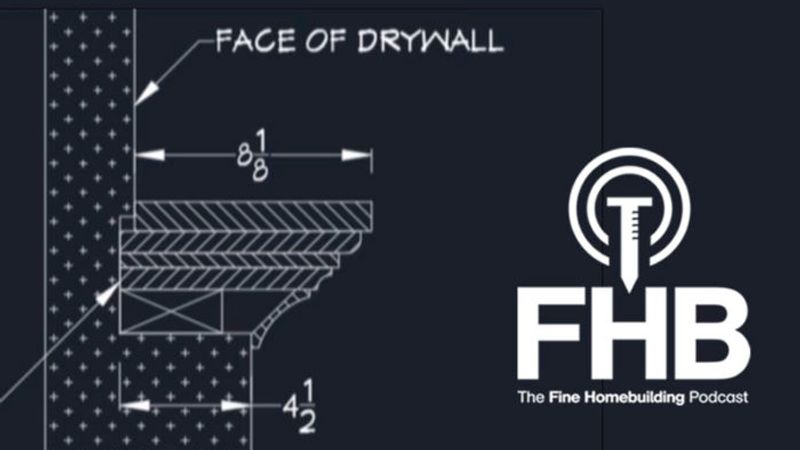 This episode features our regular podcasters, Justin Fink, Rob Yagid, and Brian Pontolilo. Brian wants an update on Rob's radiator cover project — should he make his own or go with a package? The jury is still out — so more on that in a future episode, with photos. Then on to questions!
---
Listener Tom has a trim question. He wants to build a new mantel for a fireplace. This fireplace:
To match the other trim in the room, he wants a mantel in cherry, stained dark, with a piece of cove molding on the bottom.
Here's his idea on how to do the job:

---
Listener Jack asks about installing a replacement window in a brick opening. This is a solid brick wall, not brick veneer, and it's not a sash replacement, but rather a full window with no nailing flange. Jack asks, "How does one go about sealing that from the elements? Should I be flashing the actual bricks then sliding the window into the opening, securing it, and then caulking the gap?"
---
It's time for our new segment, in which we feature gems published in the past …
Favorites From the FHB Vault: Whole House Design
Brian loves this house: Better Than Average.
Rob is a fan of Mark Hutker, especially this home: Architecture the Way We Like It. And click here to see the video.
Justin's choice was the winner of the HOUSES Best New Home of 2016: The Architecture of Simplicity.
---
This episode of the podcast is brought to you by our sponsors, FibaFuse and Danner.
Born from logging and exploration, Danner is a Pacific Northwest original. Every boot is hand made to hold up in unforgiving conditions and live up to their unyielding standards. Stronghold work boot is what happens when more than 85 years of legendary quality, durability, and heritage runs into modern construction, technology, and materials. You get tomorrow's classic today. The Stronghold work boot. Visit Danner.com for more.
FibaFuse Paperless Drywall Tape applies just like paper tape but is stronger, thinner, lighter, and easier to apply. It's natural mold and mildew resistance properties makes it ideal for use on all types of gypsum board. The porous design allows compound to flow through the tape making every finishing job easy and efficient. FibaFuse eliminates bubbles and blisters commonly found with paper tape for a smooth professional finish. FibaFuse can also be used for patch and repair. FibaFuse is the contractors choice for superior performance. Visit FibaFuse.com for more information and to request a sample.
And as Justin mentioned, you can enter the Festool prize give-away sweepstakes at FineHomebuilding.com/Festool.
We hope you will take advantage of a great offer for our podcast listeners: A special 20% off discounted rate to subscribe to the Fine Homebuilding print magazine. That link goes to finehomebuilding.com/podoffer.
The show is driven by our listeners, so please subscribe and rate us on iTunes or Google Play, and if you have any questions you would like us to dig into for a future show, shoot an email our way: [email protected]. Also, be sure to follow Justin Fink, Rob Yagid, and Fine Homebuilding on Instagram — and "like" the magazine on Facebook. Note that you can watch the show above, or on YouTube at the Fine Homebuilding YouTube Channel.
The Fine Homebuilding Podcast embodies Fine Homebuilding magazine's commitment to the preservation of craftsmanship and the advancement of home performance in residential construction. The show is an informal but vigorous conversation about the techniques and principles that allow listeners to master their design and building challenges.
Links related to this episode: