Tools & Materials
A Look at the XTR01T7 Cordless Makita Trim Router Kit
This cord-free router kit is well-balanced and well-made.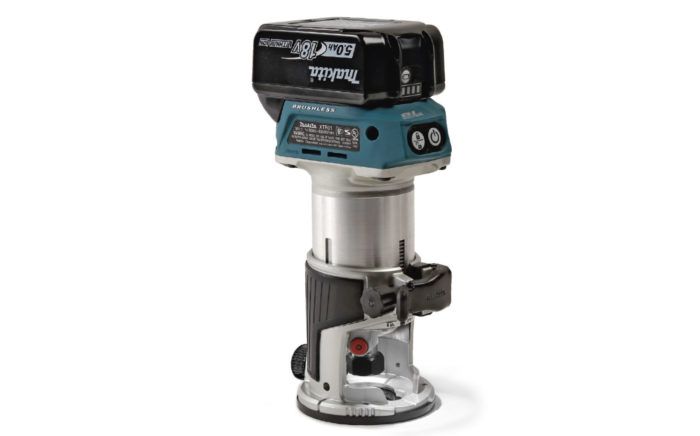 As a trim carpenter, I use my routers for everything from easing and profiling edges to plowing dadoes for cabinetry. I have several routers of different sizes that I use for various tasks, but my compact router sees the most action because its one-handed operation makes it easier to use. I've been thinking of getting a compact cordless router for some time. I liked the thought of not having to unplug something to make room for the router and not having to drag a cord during edge-forming. I've had good luck with my corded Makita trim router (model RT0701C), so I decided to give the cordless version a try.
I've now used the XTR01T7 kit for several months building cabinets and built-ins. The kit I got includes the XTR01Z router, fixed and plunge bases, an edge guide, two batteries, and a charger.
I was a little worried that the 5.0-amp/hr battery on top of the motor would make the tool top-heavy, but the balance is surprisingly good, and it handled hundreds of feet of edge work in pine on a single charge. Both the fixed base and the plunge base are sturdy and easy to adjust, as is the edge guide. I would highly recommend this router kit to anyone looking for a well-balanced and well-made cordless-router setup.
Makita XTR01 Cordless Router
Power: 1-1⁄4 hp
Speed: 10,000 rpm to 30,000 rpm
Collet: 1⁄4 in.
Price: $335 (kit)