A Build Above
An award-winning designer/carpenter shares a few tree house–specific construction insights.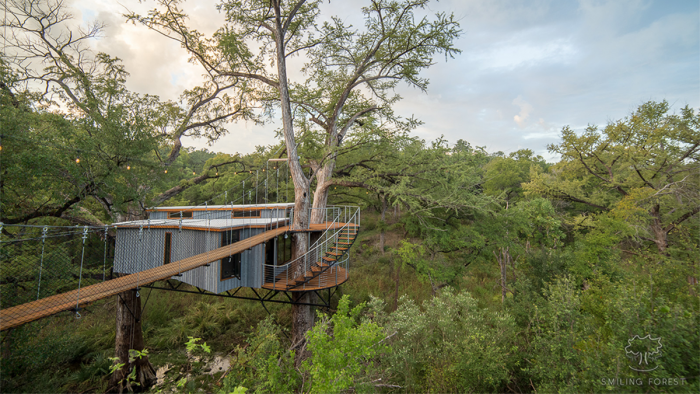 Unlike most builders, Will Beilharz works with his boots off the ground. In fact, the founder of ArtisTree regularly spends his days 25 ft. to 30 ft. up in the air dangling from a rope. His seven-year-old Texas-based company has a jaw-dropping portfolio, as well as a few design awards to its credit. Specializing in "custom treetop architecture," Beilharz and his team design and build what amount to tiny houses in the canopies of trees—no small feat, to be sure.
I was curious to hear a bit about the construction side of these structures, so I hopped on the phone with Beilharz. "One of the key things about building a tree house is that the foundation is alive in most cases," he begins. "To stay limber, healthy, and strong, trees need to move." Likening trees to a muscle, Beilharz describes an improperly built tree house as akin to a cast around an arm. If constrained, trees will atrophy, weaken, and ultimately die.
It is for this reason that Beilharz designed a special truss system that he uses consistently on all projects. Typically built between two trees, one side of the truss is static while the other is loose, allowing for back-and-forth oscillating movement. Beilharz notes that bolting to two trees without allowing each to move independently is a common mistake—usually made because people don't understand tree science. For his truss system, Beilharz relies on steel. Unlike wood, it can accommodate cyclical loads, which are repeated forces at the same point that cause stress. Metal is more flexible and resilient than wood, which is static, doesn't stretch, and splinters. He also uses metal for its fire ratings—key when building in forest settings.
Floor plates are bolted to the top of the truss system, which rests on the freely moving tree for downforce. Beilharz describes it as a floating foundation, adding that the floor plate is like the concrete slab and the truss is like rebar in a conventional build.
Walls are typically built offsite and hoisted into the trees. "We have even zip-lined walls and materials to the platform," Beilharz muses, noting that the reason to build on the ground is for the relative ease of working on a bigger, flatter surface. Though generally not four-season structures, Beilharz's tree houses are designed for thermal comfort and energy efficiency. The 2×4, R-20 wall assemblies usually include OSB sheathing, a moisture barrier, Tyvek wrap, Rockwool or biodegradable spray-foam insulation, and an LP FlameBlock layer. Exterior cladding is often FSC-certified wood. He also raves about the steam-treated wood siding from Thermory because it offers decades of rot-resistance and no finish is needed.
Most of Beilharz's tree houses have a standing-seam metal roof, though he sometimes uses Delta Rib panels. He built one green roof, which turned into a soil science experiment. The weight of the soil ultimately led to his replacing it with peat moss and vermiculite.
What of the challenges associated with tree house construction? There's the obvious: "Unlike a poured concrete foundation," says Beilharz, "you have to climb a tree and build the foundation and the rest of the structure at heights. There's nothing to stand on to start." The construction of the foundation, he notes, is one of the most time-consuming aspects of tree house construction.
Not surprisingly, measurements are imprecise. "You are hanging from a rope, snapping a line between trees with someone else on a rope 40 ft. away—forget about an 1/8 in., you can easily have a 6 in. variance." Luckily, Beilharz has discovered photogrammetry, which is the use of photography in surveying and mapping to measure distances between objects.
On the 500-sq.-ft. "Yoki" project pictured here, the trees were one distance apart at ground level, but 25 ft. up and the span between them was close to 41 ft. Plus, they leaned away from one another. Beilharz's construction plan was for a 36-ft. span; the whole foundation had to be changed to cover the longer span.
Additionally, the window package was a major headache. During the course of communications between the suppliers handling the order, the rough opening measurements changed. Beilharz had already framed in the walls. When the windows arrived, the team had to cut out portions of the wall—luckily, they were metal.
Though best know for his tree houses, Beilharz has a few tiny house projects to his name, too. His "Phoenix"and "Ohana" houses—both off grid—demonstrate his keen sensitivity to the importance of a structure's orientation in terms of harvesting of energy. Most of his projects incorporate solar panels, though for tree houses they are typically ground-mounted.
For people interested in building a tree house, Beilharz offers this advice: "First consult with an arborist to be sure the tree or trees being considered are healthy and a suitable species. Then, consult with an engineer who can determine the stress loads."
Personally, I recommend studying Beilharz's work.
Photos by Eric Schlegel, courtesy of ArtisTree, except where noted
If you have a project that might be of interest to our readers, please send a short description and images to [email protected].
For more unique builds: