Podcast 205: Home Shops, Band Joists, and Working With Code Enforcement
The FHB editors field questions about the perils of an unheated shop, insulating a band joist behind brick veneer, and how to build a "fine" house on a tight budget.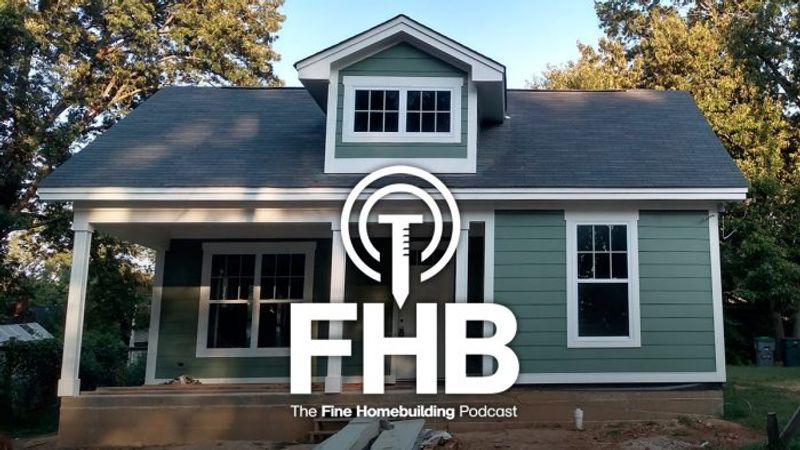 Follow the Fine Homebuilding Podcast on your favorite app. Subscribe now and don't miss an episode:
Patrick, Kiley, and Rob kick off the conversation with feedback about pricing construction work and regional differences in home building topics before tackling some listener questions. Topics this week included preventing rust on tools in a detached workshop, insulating a basement without compromising durability, striking a balance between affordability and quality craftsmanship, and getting comfortable with the process of pulling building permits.
---
Listener Feedback:
Listener feedback #1
We heard from Andrew regarding charging enough to make small jobs worth it: I used to charge hourly for small jobs, but people balk when you tell them your hourly rate. In the last year I moved to a fixed price model. That is so much for each task or item. There is also a minimum charge to make it worth your while. If the job is a little larger, develop a daily rate say $1000. If the job will take 2 days $2000 plus materials. If you think it's a 6 hour job, you charge a full days rate, because it's highly unlikely you can find a small project to finish the day. This pricing method lets the customer know the price upfront, and they don't have to worry if you need to make a parts run or take lunch. Sometimes it will bite you but for the most part it works out great.
Examples:
Install ceiling fan up to 8′ ceiling $100
Install toilet $150
Install LVT flooring $5 per sqft
Related links:
Listener feedback #2
West coast listener writes, Still love the podcast and want to say "thank you" off the bat but feel that it has gotten even more provincial since the departure of the original three. Broadening the audience by adding a novice makes sense to me. but overlooking or being ignorant of half the country's building practices does not. I think the magazine, by the way, does a much better job in this regard. Keep up the good work but please strongly consider my suggestion to add west coast representation.
Related links:
Listener feedback #3
Lee from Bostic, North Carolina writes, Hello all, Just want to take a second to say thank you for taking the time to make an awesome podcast. My wife and I started planning a new home construction a couple of years ago and finally started this past August. Our goal was to build a small efficient house and your podcast guided our decisions in many areas of the design. I have attached a few pictures. Thank you for all that you do!
Related links:
Listener feedback #4
Emily writes, Hi, We are offering our domain name "InsulationAdvisors.com". Are you interested in acquiring the same?
---
Editor Projects
Kiley: Tap dancing floor.
​Rob: Working on his barn/shop.
Patrick: Wheel barrow.
Related links:
---
Question 1: How can I keep tools in my workshop from rusting? And what's the best way to build a foundation for a small shop??

Matthew from Belleville Ontario Canada writes, Thanks for the great work you do — I enjoy listening to you tackle building questions especially as your advice typically runs through the "Best", "Good Enough", and "If you feel lucky" options for solving a problem — which is what a lot of us are looking for. I became a magazine subscriber this year after listening to the podcast.
I am looking at building a small (10ft x 14ft) man cave/shed in my backyard to use the nice woodshop equipment I have inherited (drill press, planer, jointer, table saw, chop saw, etc). The space would only be heated when I work there.
I have two questions:
1) Will the tools rust in an unconditioned space like this? Quite often on the podcast you speak of your own exterior workshops that also sound like they are mostly unheated – do you have a problem with tools rusting?
2) What sort of foundation do you recommend. I am thinking of a removing the organic layer of the soil, putting down some stone, a layer of foam and 6 mil poly for a thermal and vapor barrier and then a concrete pad. I hate the idea of a wood foundation on blocks because of the step up, and hope I don't need to dig a 4ft frost/foundation wall as that would be prohibitively expensive and take it out of my DIY hands. My main concern is frost heaving. Any thoughts on my plan?
Related links:
---
Question 2: Can I insulate my basement wall with foam if there is brick cladding on the exterior?
Tom from Ontario writes, Hi FHB podcast, I live in a 1970s raised bungalow which had its basement partially finished sometime in the '90s. We are now looking to finish this off and improve the insulation/air sealing. Existing insulation is fiberglass batts in 2×4 walls which are set 2″ off the foundation, together with a poly vapor barrier. The rim joist is insulated with paper-faced batts in some places, and uninsulated in others. The plan for the walls is to remove the existing batts and poly, add 2″ EPS on the foundation, spray foamed at the joints and connections, then replace the batts. The rim joists will be done with cut-and-cobble.
However, there is a 12ft length of one foundation wall which is brick-faced. A cross section is shown in the attached diagram. Your great discussion a while back about the perils of insulating structural brick got me thinking about the brick drying path in this case.
So my question is about insulating/air sealing the rim joist and surrounding area on this wall, while still allowing a drying path for the brick:
1) Does the brick need a drying path to the interior?
2) How would you go about detailing this area? I would like to avoid spray foam as much as possible.
We have been in the house for two years, and so far no signs of any water issues in the basement. We are in central Ontario, zone 6.
I hope that's enough information, please let me know if you need more.
Thanks so much for putting together such an informative show!
Related links:
---
Question 3: How can you build a "fine" home on a tight budget?
Paul from Memphis writes, Fine Homebuilding podcast team, I've been a listener, even advocate of the podcast for many months now. Even got my wife to listen to the design discussion a few episodes back, and she didn't roll her eyes at it, so thanks!
I lead a construction job training program at Binghampton Development Corporation in Memphis (zone 2). We work in a neighborhood of historically high unemployment, crime, poverty, etc…
Our training program uses our old and new residential building projects as vehicles for hard and soft skills job training. We hire men from our neighborhood and train them on real jobsites 4 days a week for 6 months. Along the way, we try to get their tape measures down to 1/16″, teach them the basics of carpentry in real-world settings, and when they graduate endorse them into careers in the industry.
As a builder and trainer, my question for you is, how do you build a fine home really, really, really affordably? I know it's the "fine" homebuilding podcast (or "air sealing" podcast….), not necessarily the "affordable" homebuilding podcast. What ways can we do both?
Attached is a ~1500 sq. ft house we've built, and are planning to build again. An amazing architect, Brad Shapiro, has drawn up the plans for us with the specific goals of affordability and training. We will do the Hardie siding, all trim, insulation, help w/ concrete, and maybe do the framing on this job, everything else subbed out.
Some specs we're shooting for:
• Floors: our neighborhood is predominantly monolithic slab on grade. So, sealed concrete floors & maybe LVP or carpet in some rooms.
• Rafters vs. trusses? We're planning rafters. Extra time is less of a cost to us than equipment and trusses, plus it would do with Larry Haun's videos which we watch for basic framing. We changed the roof pitch to 7:12 from 8:12 to have 20' instead of 22' rafters, which are double the cost.
• 2″ x 6″ 24″ OC or 2″ x 4″ 16″ OC ext walls? I prefer 2″ x 6″ walls not just for extra R-value, but for safety reasons when trainees are working on top of the walls.
• Zip or Tyvek? 7/16" Zip on walls, regular OSB on roof. Huber has up to $1500 rebate for 1st time users in 2019.
• Kraft-faced batts in walls and ceiling vs sundry other options? Batts, b/c it is something we can install ourselves. With no zip on roof, we'll caulk top plate to ceiling drywall to act as air barrier
• Uncased openings/drywall returns in windows. Personally, I loathe all things drywall. I mean, does anyone ever wax nostalgic about drywall like they would about wood or steel? I much prefer cased openings for aesthetics and training opportunities, but this does save a few bucks.
• Do you guys have any other suggestions to maximize affordability, training, and building performance?
Related links:
---
Question 4: Can I pass building inspections for remodeling projects if other parts of my old house are unfinished?
Erik from Portland, OR writes, Hello, I was given a subscription to Fine homebuilding magazine last Christmas and I have been very impressed by the quality of the publication. More recently I found the FHB podcast and I feel like I cannot listen to them fast enough! I love how everything is explained and that most topics are covered from multiple viewpoints.
My question is about the part of DIY that scares me the most, the permitting process. I know permitting varies by region (I am in Portland, OR) but I think my worries are probably broad enough to be covered by an expert in another region.
I am taking on a remodel on a foreclosed house that was empty for several years. I am working with an engineer on plans to remove a load bearing wall, but currently there are a few smaller items I would like to tackle while I wait.
My fear with permitting is with what happens after I complete individual pieces which need to be inspected (and the rest of the house is a mess). Can you shed some light on when the city would give you a stop work order? I am also interested in best practices for DIY'ers wanting to make sure everything is compliant.
Related Links:
---
And finally…
Patricks find:
Related Link
---
If you have any questions you would like us to dig into for a future show, shoot an email our way:

[email protected]

.
If we use your question we'll send you a FHB Podcast sticker!
#KeepCraftAlive

KeepCraftAlive hats help celebrate the value of true craftsmanship–plus 50% of all proceeds from every hat sold go to the #KeepCraftAlive Scholarship Fund, supported by Fine Homebuilding and SkillsUSA.
Buy a #KeepCraftAlive hat or t-shirt
---
This episode of the podcast is brought to you by MiTek
Brought to you by MiTek ProSeries Structural Wood Screws, the new standard in wood screws. MiTek's ProSeries Screws are code compliant, reduce labor time, and are available for many fastening needs. And now the MiTek ProSeries line includes the WSTS Truss/Stud Screw. The WSTS includes an installation angle tool and driver bit to help you drive every screw at the exact angle needed without complicated jigs or measuring. Reverse thread angles on opposite ends of the screws provides higher load capacity while a fully threaded shank allows for more flexible installation. Get through the job faster, easier, and stronger with MiTek ProSeries WSTS Truss Stud Screw. Visit Mitek-Us.com and search Pro Series for more information.
Fine Homebuilding podcast listeners can now get 20% off anything in the Taunton store, including Renovation, now in its 5th edition. This home repair and remodeling bible describes in unvarnished detail best practice for hundreds of renovation projects. Also check out the Code Check series. These sturdy, spiral bound reference books will help you navigate the International Residential Code, The National Electric Code and the Universal Plumbing Code. Use the discount code FHBPODCAST to take advantage of this special offer.
---
We hope you will take advantage of a great offer for our podcast listeners: A special 20% off the discounted rate to subscribe to the Fine Homebuilding print magazine. That link goes to finehomebuilding.com/podoffer.
The show is driven by our listeners, so please subscribe and rate us on iTunes or Google Play, and if you have any questions you would like us to dig into for a future show, shoot an email our way: [email protected]. Also, be sure to follow Justin Fink and Fine Homebuilding on Instagram, and "like" the magazine on Facebook. Note that you can watch the show above, or on YouTube at the Fine Homebuilding YouTube Channel.
The Fine Homebuilding Podcast embodies Fine Homebuilding magazine's commitment to the preservation of craftsmanship and the advancement of home performance in residential construction. The show is an informal but vigorous conversation about the techniques and principles that allow listeners to master their design and building challenges.
Other related links