Tools & Materials
Better T-bevel Angle Gauge
The Shinwa No. 780 Sliding Bevel Gauge has several smart features that make it more durable and more convenient to use than typical angle-measuring tools.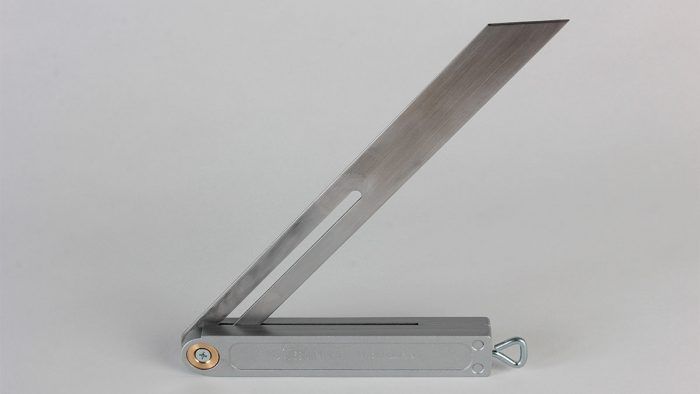 As any regular remodeler will tell you, a sliding bevel is an indispensable tool for copying angles, reproducing odd-shaped pieces of tile or trim, and determining roof slopes. The Japanese-made Shinwa No. 780 Sliding Bevel Gauge is a step above ordinary bevel gauges. It has a cast-aluminum handle and a stainless-­steel blade for a lifetime of service. And instead of the ubiquitous through-bolt and wing nut where the blade attaches to the handle, it has a brass bushing for smoother movement and greater precision. The unique blade attachment has another benefit: The thumbscrew lock is at the end of the handle, not on the side, so you can measure an angle using either side of the tool. Skeptics will note that you can always use the flat side of an ordinary bevel so the wing nut isn't in the way. That's true, but the wing nut still interferes when you need to turn the tool upside down to transfer the angle to the workpiece. Another intelligent feature is the blade, which is not centered in the handle, so you can use the tool with thinner stock than standard bevels. For $24, it's a no-brainer.
Andrew Grace, a remodeler and roofer in Ligonier, Pa.
Photo: Melinda Sonido
From Fine Homebuilding #288