Thinning Finishes for Spraying
If you're exceeding the paint manufacturer's guidelines, there are a few things to keep in mind.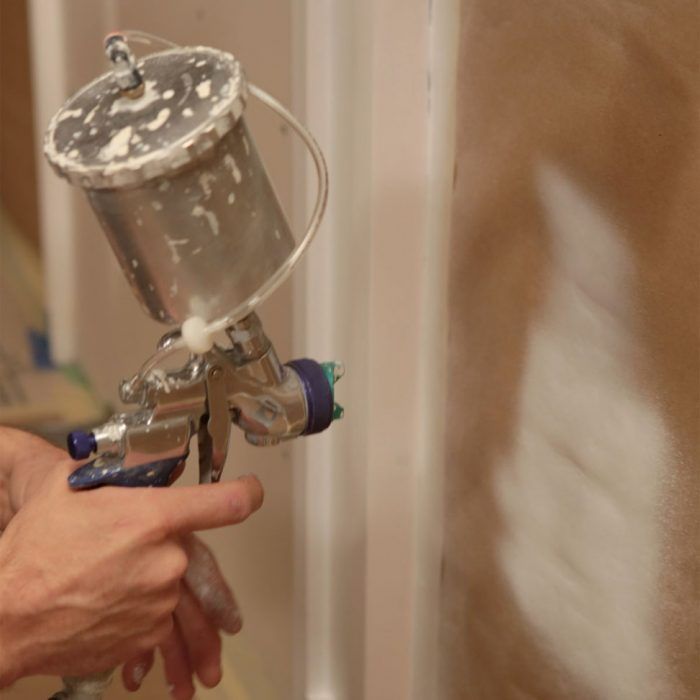 I've been using an HVLP sprayer on various projects for about a year with generally good results. Lots of paints and stains go through it just fine, but some need to be thinned—especially for fine spraying. I've followed the thinning instructions on the cans, but I can't help but wonder if thinning is bad for finishes. Does it diminish or enhance any properties of paints or stains? Are there any rules of thinning to go by?
—Matt via email
Mike DiBlasi, of DiBlasi Painting in Millbrook, N.Y., replies: In order for the fluid to pass through the needle/spray-cap assembly and become atomized, thinning is almost always essential, and is standard operating procedure when using HVLP systems.
Following the manufacturer's recommendations is always a good idea, and you can get excellent finishes by adhering to these guidelines. However, in my experience, exceeding the manufacturer's thinning guidelines does not cause any significant problems. It will likely mean applying more coats to achieve the protection and aesthetic you desire, as the build (coating thickness) is inversely related to the volume of thinner— in other words, the more thinner you add, the thinner the coat will be when you apply it to the surface. That said, there are a couple of things to keep in mind.
It is essential that the previous coats are dried sufficiently, especially when thinning beyond the manufacturer's guidelines. If the previous coat has not cured properly, the solvent has the potential to reactivate it and a whole host of problems could emerge, such as runs and blistering. Also, excessive amounts of solvent will likely dull the finish, turning a gloss into something more like a satin sheen.
To take the guesswork out of thinning, get a viscosity chart from the manufacturer, and thin the product to the manufacturer's specs. Verify the thinned product's viscosity with a viscosity cup and a stopwatch. A viscosity cup is a tapered plastic measuring cup with a hole in the bottom. You fill it to the top with the product you're about to spray and then time how long it takes for the liquid to fully drain. The thicker (more viscous) the liquid, the slower it drains. Viscosity-cup measurements are exact, making finishing more consistent and predictable for all future projects. Keeping a log book handy with formulations that have worked well is a good idea.
From Fine Homebuilding #293
More about spray finishes
Spray Finish On Site – Waterborne lacquer and a modest spray setup yield quick, quality painted work.
Tips for On-Site Spray Finishing – FHB Ambassador Tyler Grace shares his setup and strategy for achieving a cabinet-shop-quality finish in a customer's house.
Refinish Your Cabinets – Save thousands by painting cabinets instead of replacing them.
Expert Session: Spray Finishing On-Site – Watch remodeler Tyler Grace discuss the techniques he uses for perfect on-site paint jobs using HVLP and airless sprayers.