Design
Schoolhouse Reimagined
A builder shares lessons in small-home design for downsizing and living well with less.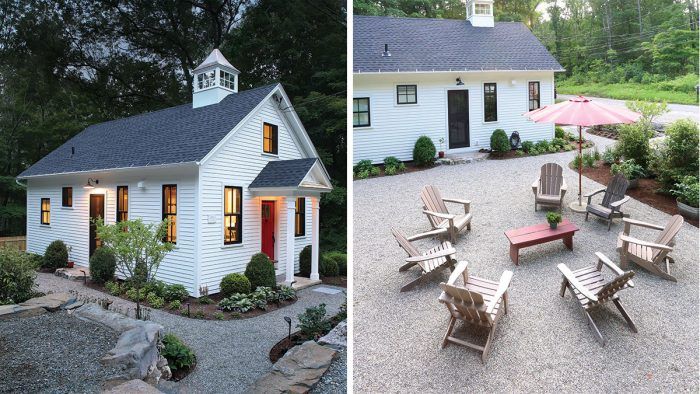 Synopsis: This 850-sq.-ft. former schoolhouse sits on a nonconforming lot, so no additions would be approved by zoning to turn to the building into a single-family residence for a downsizing couple. Making such a small space work meant incorporating a mix of strategies. Tall windows give the space height, while kitchen counters set flush with windowsills reduce visual barriers. Problem-solving solutions for small spaces—a thin refrigerator, a compact washer/dryer, and an extending coffee table—increase the flexibility of different areas. The article includes floor plans that demonstrate how organizing public, private, and flexible spaces brings order and functionality to the design.
---
The Bromica School House sits at the corner of intersecting dirt roads in Kent, a small town along the Housatonic River in northwestern Connecticut. Constructed in 1920, it was among 14 one-room schoolhouses in service to the region. By 1950, the school, along with only a handful of others left in the area's more remote hills, had closed its doors for good. It since served as a single-family home, but fell into severe disrepair by the late 1990s. By the time a local carpenter and his wife—my parents—purchased the property in 2019, there had been multiple attempts to restore it. The latest, initiated by a local architect who had the building gutted, left them with a blank slate to create a comfortable, functional, and fun home where they could enjoy retirement.
Defined spaces

The floor plan organizes public, private, and flexible spaces amidst the open plan to bring order and functionality to the design. A large patio steps away from the kitchen provides an open area for entertaining friends and family.

SPECS

Bedrooms: 1

Bathrooms: 1

Size: 850 sq. ft.

Location: Kent, Conn.

Designer/builder: Paul and Angela Yagid

Landscape: Richard Schipul, designingeden.com
The rebuilding of this home was an exercise in imaginative small-home design, where core living spaces are creatively arranged to make the most of the home's footprint on the nonconforming lot. The upgrades in both performance and aesthetics were based on comfort and a real-world budget, with the intention of giving the home a more modern look and feel without erasing all semblance of its rich history—a practical approach that can be replicated in any project, whether new or extensively remodeled.
A few years ago, my parents found themselves living in a home they loved but that no longer fit their lifestyle. At 3400 sq. ft., the traditional colonial that my father built many years prior had become much too large for their needs and for how they wanted to spend their time. When most people consider downsizing, they don't quite envision living in a home that's a quarter of the size of their former residence. But the schoolhouse was too charming to pass up. And while small-home living has its challenges, they were more than willing to take them on. A truly small home demands letting go of a lot of material items, keeping what matters most, and adjusting your living patterns. When designed well, however, a small home affords a certain level of comfort that can't as easily be found in larger houses.
Because the house is on a nonconforming lot, no additions would be approved by zoning. There would be no easy outs in developing the floor plan. Fortunately, the existing structure had a few key elements that were retained and enhanced to make it all work. The first was the vaulted ceiling. The second was a small existing loft at the back of the structure, and the third was a trio of tall beautiful windows that undoubtedly once drew the attention of daydreaming students who could gaze up at the tops of the nearby maple trees. It only made sense to anchor the main living area adjacent to these windows— updated with double-hung Marvin Integrity units in the same proportion as the originals—in order to take full advantage of the light and views they provide. With the living room and kitchen placement positioned at the front of the house, the bedroom and bathroom were located in the opposing rear corners, compressed beneath a rebuilt loft that now serves as a flex space…
From FineHomebuilding #294
To view the entire article, please click the View PDF button below.
View PDF