Live: The Selected Entries of the Wall Assembly–Sweet 16
Watch this webinar recording for a conversation with Mike Guertin, Emily Mottram, Christine Williamson, and Steve Baczek, judges of the Wall Assembly–Sweet 16, on the selected 10 student entries and what makes this student-designed assembly a winner.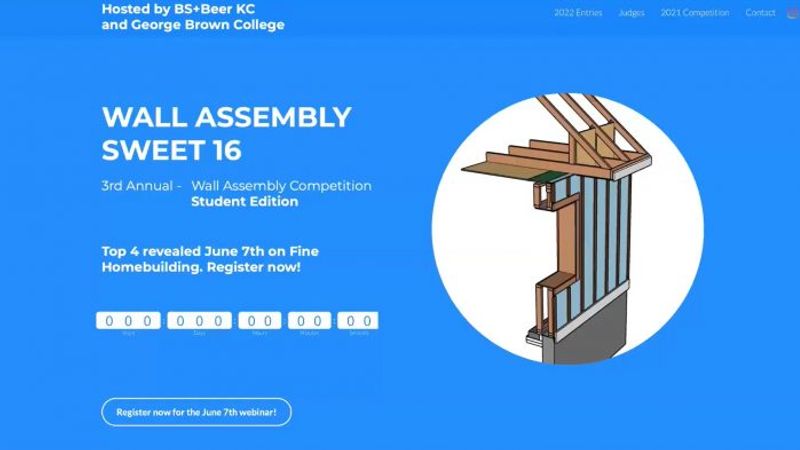 What is the Sweet 16?
Wall Assembly—Sweet 16 is a single-stage international student wall assembly competition held annually by BS* and Beer of Kansas City and The School of Apprenticeship and Skilled Trades at George Brown College. Participants are tasked with designing a wall assembly for their given climate zone while considering six criteria with a focus on applied building science.
The inaugural 2020 competition, created as a way to combat boredom during the global lockdown pitted 16 assemblies against each other from professional Builders and Architects. The second Sweet 16 in 2021 placed emphasis on the work of skilled-trade, architectural, and design students from across North America. ​
For 2022, we are back for an exciting 3rd running of the Wall Assembly—Sweet 16 (Student Edition) with a continued mission to champion the ideas of young tradespeople, designers and architects. Wall assemblies are a pivotal aspect of envelope design in residential construction and the foundation of many students' initial application of building science. While the focus of the competition remains wall assemblies, critical attention must be paid to the connections and proposed assemblies of adjoining foundations, floors and roofs.