Forming Foundation Walls
In the first episode of FHB House Kansas, Travis and Joe of Catalyst Construction walk through details of their foundation walls.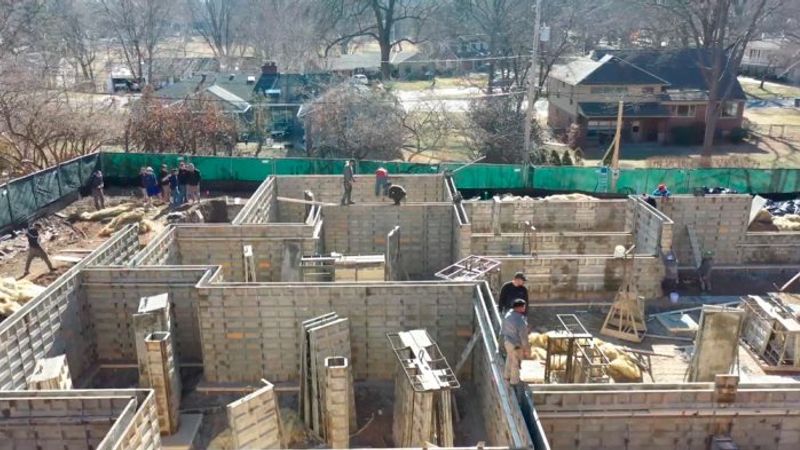 Travis Brungardt and Joe Cook of Catalyst Construction started formwork for the foundation walls at Fine Homebuilding House Kansas and were thankful to get footings in before a severe cold snap. The 3-ft. by 9-ft. form panels are lightweight magnesium, and join together with bolts and wedges to draw them tight and keep the foundation perfectly aligned.
Before the crew started, they snapped a line along the footings and set the exterior forms against that line. Then, they tied the steel  reinforcement horizontally across on all the #4 rebar sticking up from the footing before setting the inside panels. Once the forms are in place, they make sure they're straight with a stringline. Even if the bottoms of the panel are on the line, the tops can have a little waviness where the form panels meet. Horizontal walers and diagonal bracing help to align the form panels and prevent the wet concrete from pushing the walls out of alignment.
Because Travis and Joe expected freezing temperatures, they put 2 in. of straw over the excavation and then covered the straw in plastic to prevent the ground from freezing. The straw comes in 8-ft.-tall by 120-ft.-long rolls and is about 3/4 in. thick. It has a netting woven into the straw mat, so you can just roll it on out. The time savings made it more cost-effective than buying bales, breaking them up by hand, and then spreading them.
---
RELATED STORIES