How To Build a Form for a Small Concrete Slab
In this 3-part video series, builder Andy Engel demonstrates the basics of forming, mixing, pouring, and finishing concrete projects.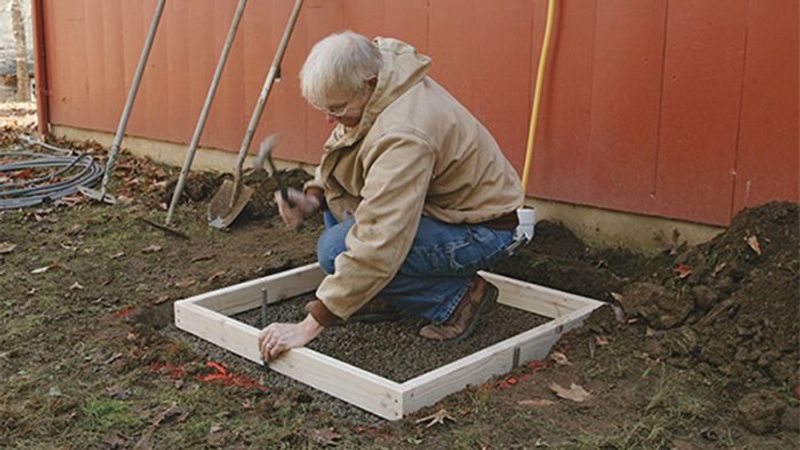 Forming a Small Concrete Slab: Good slabs need good bases. Compacted soil below reduces the odds of settling and cracked concrete. That soil is topped with a layer of gravel that makes setting the forms at the desired pitch a simple matter.
Videos in this series
---
More about building with concrete:
How to Finish a Concrete Patio Slab — Concrete can be finished in one of several ways. Here, Mike Guertin discusses several approaches, including brushing, troweling, and edging.
Reducing the Risk of Cracks in Concrete Slabs — Whether the slab is free-standing or tied into an existing structure, taking a few precautions will help prevent problems later.
Pouring Concrete Slabs — This is how a truckload of wet concrete is transformed into a smooth, flat slab. Less than ideal weather coming up? There are ways to handle that, too.
Fixing Concrete Cracks: Basement Slab Repair — Cracks in concrete basement slabs aren't uncommon. Matt Risinger explains how to fix cosmetic defects with a two-part filler called RS-88.
Placing a Small Concrete Slab — Although the amount of concrete that's required is small, a landing for a deck stairway or, in this case, a pad for a propane tank requires nearly the same forming and finishing techniques as a full-size slab
Previous:
Deeper Cuts in Concrete
Next:
How to Pour and Finish a Small Concrete Slab