How-To
Inground Gutters Keep Basements Dry
A bed of gravel combined with an underground waterproof membrane can be an effective way to direct rainwater away from your foundation.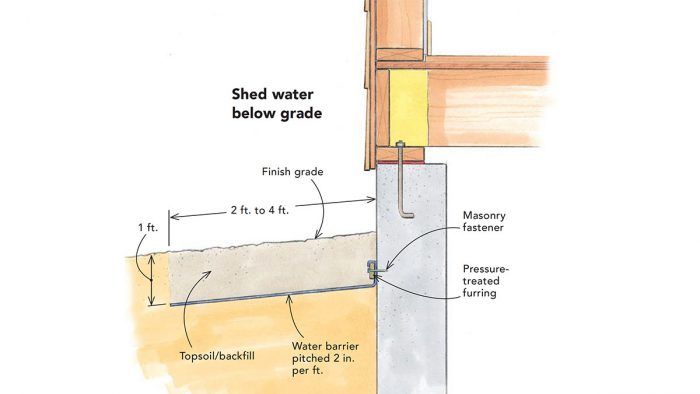 Last year, I removed the gutters on my house after ice had pulled them away from the fascia. I haven't gotten around to replacing them because I need to repair the damaged fascia first. But now my basement floods when it rains. I prefer not having gutters at all. Is there an alternative to gutters out there?
– Chris Comella, via email
Martin Holladay, a senior editor at GreenBuilding Advisor.com, replies: The soil around a home's perimeter can be very damp because most of the wind-driven rain that hits the siding ends up there. In snowy climates, where roofs are often built without gutters, water drips down from the eaves and saturates this area further. If your house sits on a particularly wet lot or if your foundation drain isn't functioning properly (or is nonexistent), this water eventually finds its way into the basement.
As a start, make sure that the grade pitches away from the house. This statement might seem basic, but you'd be surprised how often an improperly pitched grade is the root cause of wet basements. If the soil is sandy, however, this step won't necessarily solve your problem.
In climates where roof gutters are frequently damaged by ice, the most foolproof way to move surface water away from the foundation is to install underground flashing, also known as an underground roof or an inground gutter.
To install the system, dig a 2-ft.- to 4-ft.-wide trench about 1 ft. below grade around the foundation, and then install a sloped water barrier. The barrier's depth can vary depending on site conditions and landscaping requirements. The least expensive water-barrier option is 6-mil plastic, but more durable materials, such as rubberized asphalt, peel-and-stick flashing, or EPDM roofing, are good alternatives, especially in rocky soil. To make the water barrier more robust, add a layer of XPS foam beneath it.
Fasten the barrier to the foundation at or just below grade with pressure-treated furring and masonry fasteners, such as Tapcon screws. Although it's not necessary, you can collect and further direct water by adding a perforated pipe at the outer edge of the barrier.
Drawing: Dan Thornton
Previous:
Underground Gutters