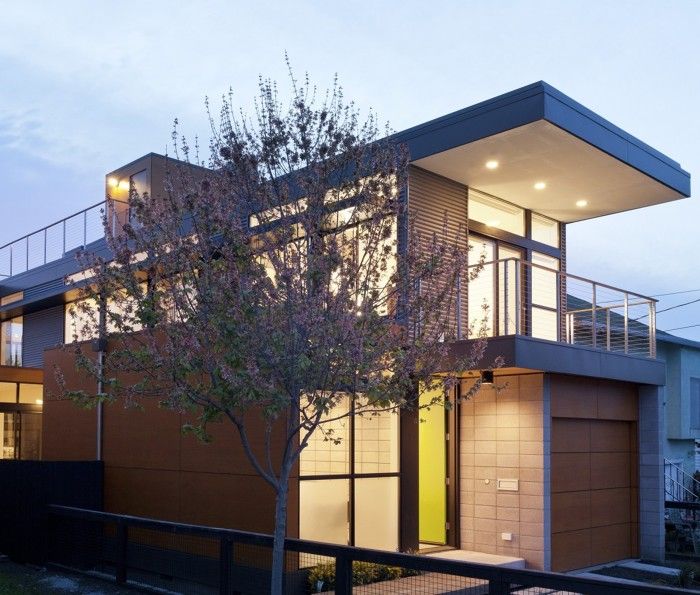 The project is a contemporary two-story single-family residence designed for an extremely narrow infill lot (30'x100′) in an established urban neighborhood. The home is the prototype for a new prefab homebuilding company and the full-time residence of the company's founder. The goal of the project was to take custom-quality modern architecture and deliver it in a sustainable package that is more affordable for a wider audience.
The home was designed to take advantage, in part, of offsite fabrication techniques. The prefab process allows for the site work to be executed concurrently with the factory fabrication, saving time and reducing project costs. The completed modular components were shipped to the site and set on the foundation by a crane in a single day, taking it from an empty foundation in the morning to a fully erected structure by the same evening. From that point many of the custom finishes– including the large format tile floors, Parklex wood panel rainscreen siding, solar array, green roofs, Ipe decks, rainwater catchment– were installed on site.
The project programming was guided by three ideals: Form, Function & Footprint. Form embraces the modern design aesthetic, drawing inspiration from the fame Eichler homes of the mid-century in California. Function takes advantage of a standardized design system and off-site fabrication. Footprint endeavors to deliver the most eco-friendly, sustainable and healthy production home on the market. The net-zero energy residence is participating in USGBC's LEED-H program and is on track to receive a Platinum rating– the highest available.
These three programming ideals are also designed to deliver a home at least $100 psf less than a similar site-built custom modern home, in a model that can be replicated.
As the prototype for a new line of prefabricated residences, this home showcases the proprietary prefabricated design system of Simpatico Homes. This system is built around a predeveloped "kit of parts" that can be arranged to suit the needs of a wide range of clients and sites. Because of this system, each of the future homes will share a consistent design aesthetic and materials, and the design/build process is streamlined. In developing this home in close proximity to the firm's office, the home can be used both as a prototype to test and refine the prefabricated system, but also as a show home where prospective clients can see one of the Simpatico Homes firsthand.
view toward front door from living room
rear of home, with terraces & roof deck