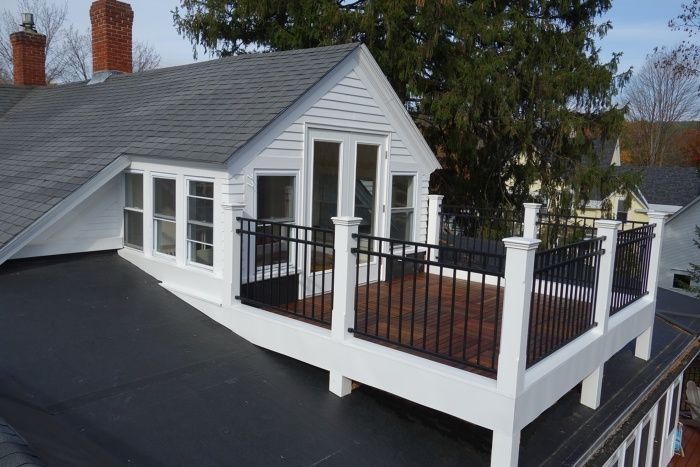 This is a deck in Montpelier, Vermont that my wife Amy and I built off of a 3rd story sunroom for some great clients who wanted, more than anything, a way to let their dog enjoy a bit of the outdoors from the top floor of their home. Lucky Dog!
The primary challenges were opening a door into the existing sunroom and flashing the opening transition to the existing rubber roof membrane so that leaks wouldn't be a problem.  Also engineering a way for the entire structure to anchor securely to the building yet sit on the rubber roof without causing leaks below was an interesting challenge.  The solution was to build a "raft" structure under the deck to distribute the loads broadly and gently across the roof membrane without penetrating it while still draining properly.
The entire structure sits atop the existing roof which was built with very sturdy 14″ roof rafters, so loading was not an issue.  I designed the deck rim to anchor securely to the framing of the sunroom, yet the whole structure is actually detachable and liftable when the time inevitably comes to re-roof.  All designs were approved by my local building inspector.
The decking is Ipe, pre-fabricated into tiles that I ordered through a supplier online.  The framing structure is pressure treated pine.  The posts are painted Doug Fir.  The entire outer structure is flashed with metal.  The railing system is powder coated aluminum.
Added added double doors, assembling the framing structure.
Finished product has a great view into the woods looking out over the adjacent ravine.
Freshly oiled, sustainably harvested Ipe 2'x2' tiles.