Bob & Judy McKeown's kitchen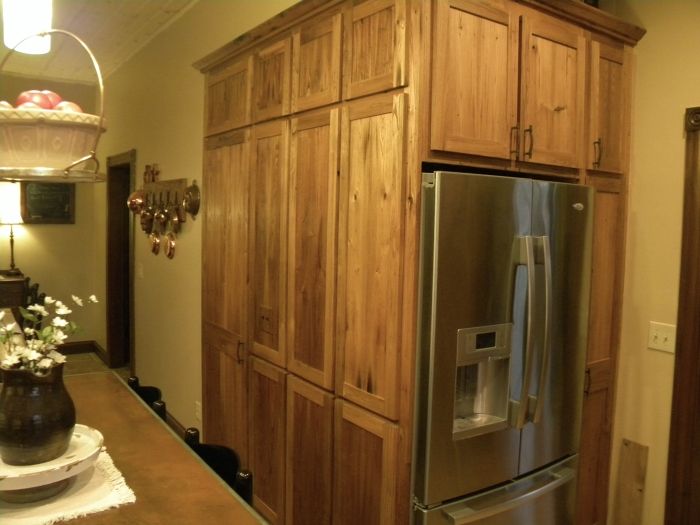 Our house is about 20 years old, but people who visit often think it's antebellum. Built partially from reclaimed materials, it has the patina of a much older home. The front door, for instance, is 2-1/2″ thick pine with hand-wrought hinges, and it's flanked by 12×12 posts over 20 feet tall; I suspect the door may be 150 years old.
When the original owner built the house, he must have run short on funds toward the end of the project. The kitchen, in particular, was done as cheaply as possible. As soon as I moved in, I began planning to replace it. I wanted all the bells and whistles, but clearly something that looked too modern would stick out like a sore thumb. I've seen lots of kitchens with details that didn't work for me, so I had lots of ideas about what I didn't want.
The first real decision was choice of materials. My brother Wade suggested wormy chestnut and helped further by finding a source on craigslist. A seller in a nearby county had a large quantity of chestnut boards that had been cut from old barn timbers. I bought a trailer load and brought it home.
There the project languished for several years until I met and married my wife Judy. She loved the house as much as I and was equally enthusiastic about building our new dream kitchen. We began in earnest to turn the dream into a reality. The project was made simpler because we had a functional kitchen and intended to put the new one where the current dining room was, giving us the luxury of building the new kitchen while continuing to use the old one.
The available space was small, so we had to rework several details to make it happen. The electrical breaker panel was right where the refrigerator needed to go, so it had to be relocated. A door to the rear deck was redundant and also in a critical spot, so I removed it. The existing windows were the wrong size and shape and too low, so I replaced them with a new Pella unit with central picture window and opening casements on each side. The water heater, located behind the pantry space, required some movable cabinetry in the pantry for access.
With the layout chosen, we made up our list of must-haves. Judy didn't want to see the trash can. She also wanted enclosed storage for all of our kitchen tools, as well as display space for her bowl collection and a few other treasured pieces. I wanted storage for recyclables, and I don't really like acres of stainless steel. As a Realtor, I also hate a counter cluttered with small appliances. Since we're ten miles from the nearest big box store, we both wanted the ability to store food, paper towels, etc. in bulk and out of sight.
The design evolved over several months. We decided to build a paneled wall that extends to the front edge of the refrigerator, which gives a built-in look to a standard-depth fridge. I extended the same paneled wall to integrate a new, matching door to the existing pantry. The corner appliance garage is small, but still large enough to house the few appliances we use often. The garage door is fitted with a Euro-style lift, so there's never a problem with something on the countertop blocking access. A mixer lift makes it easy to use the heavy, stand-mounted mixer. Elevating the dishwasher a few inches makes loading and unloading much easier. Judy designed a beautiful tile pattern for the backsplash.
A full-height cabinet at one corner is sized to hold a large birdseed bin and storage for another 50 pound bag of seed. Also in this cabinet is a small cavity that hides the satellite receive and adds a handy perch for charging cellphones. At the other end of the wall array, another full-height cabinet has drawers at the bottom facing the dining area, a nook at counter height for the microwave, and a display cabinet with two sides of antique glass for showcasing heirloom pieces.
I took advantage of this to-the-studs renovation by locating outlets everywhere I needed them, so there are no extension cords anywhere. There's a dedicated outlet in the mixer cabinet, one in the microwave nook, and multiple outlets in the appliance garage as well.
We couldn't find an island that worked, so I custom built that, too. It uses the same panel style as the cabinets but is finished in milk paint with a copper top. The island does triple duty: one side has a recess for stools and the other is equipped with a slide-out rack for trash and recycling containers. One end features open, slatted shelves for bowl display.
I've been able to honor my late parents in this new space as well. My mom's happiest moments were spent in her kitchen, so we brought in her mojo: a tooled copper piece she did around 1960 became the centerpiece above the stove. My dad, who inspired my love for woodworking, is represented in the laminated walnut mixer lift platform, repurposed from a coffee table he made in the mid-'60s.
Using the reclaimed wormy chestnut was, frankly, something I wouldn't do again. We think it's beautiful, but it was a nightmare to work with. The material was full of hidden defects. Sometimes I would choose a piece from the pile that looked perfect, only to have it split in two when I tried cutting it to size. I also had a fairly limited supply to work with, so often I had to carefully decide how to hide defects that I just didn't want to see. The wood does have its charms, though. When the pantry light is on, the light shining through the worm and nail holes in the door creates our own private constellation!
Our house sits in the middle of fifteen acres of beautiful, wooded hilltop. The new picture window above the sink gives a panoramic view of the great outdoors. A wide doorway between kitchen and living room makes those two spaces flow into each other. The tile floor, which extends through the dining room and into the foyer and powder room, unites all of these spaces and makes this relatively small area feel much larger. (Kitchen and dining room together total about 270 square feet.)
This has truly been a labor of love. I'd never done a project on this scale before, but with a lot of help from my wife and some consultation from a retired electrician friend, we pulled it off. I did all of the plumbing, electrical, tile, and cabinetry. I even wanted to do concrete countertops, but my wife wanted quartz.  I also built a farm table for the dining room to complement the look and feel of the kitchen.
We couldn't be happier about how the kitchen turned out. It reflects our personalities to a tee and fits the style of the house seamlessly. We now have room to store anything and everything we need, including stocks of food and supplies, and it's all out of sight. The recycling and trash center works exactly as we'd hoped. I feel as if I have a small part of my parents with me every time I enter the space. Judy has everything she needs within easy reach, and her prized collectibles are nicely displayed, too. Would I do it again? Maybe, but at age 64 I surely hope I don't have to!