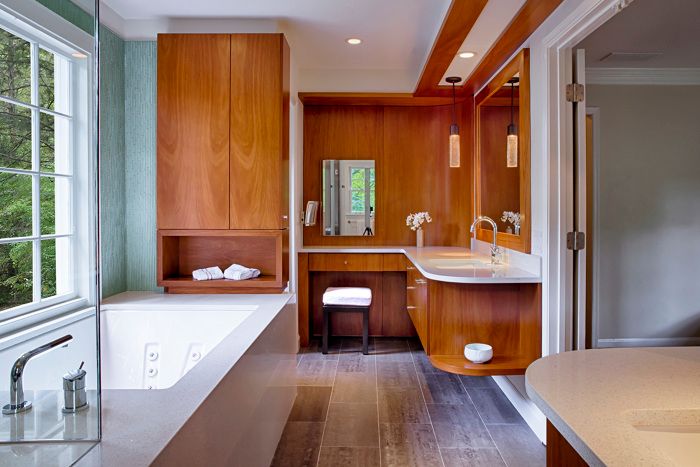 A bright, open and airy bath replaces the existing standard bath. Cramped and poorly detailed space provided all of the necessary features; double sinks, compartmented toilet and separated tub/shower. Basic function was not so much the problem; what this bath needed was some sophistication! Curved counters, clever display and a cleanly detailed, glassy shower filled the bill. Part of an existing, oversized linen closet was converted into a smart makeup area as part of the "her" vanity.
"Her" vanity after renovation.  The make-up counter occupies part of an old linen closet. The ceiling trim frames downlights, hides mechanical ductwork and creates an overhead frame that stretches the entire length of the bath, covering both "his" and "hers" vanities.
"His" vanity after renovation.  The glass shower totally opens the space and affords light and views not previously possible.  The mahogany ceiling trim folds down the wall and folds again to create the vanity base.
This image best shows the rich materials and how the curves of the countertop/display compliments the curved mahogany wall as the counter returns to create the make-up counter.  A designated armed mirror and lighted fixed mirror give lots of make-up flexibility
Inexpensive large format tile is combined with the more exotic "rain" tile to create a sculptural bottle niche in the shower.  The large format tile wraps from the floor, over the curb and up the wall to dramatic effect.
These two before images show the grim beginnings of the renovation.  Poor detailing, inexpensive fixtures & cabinets, dreary lighting and very dated finishes offered real challenges to creating a transformed space.