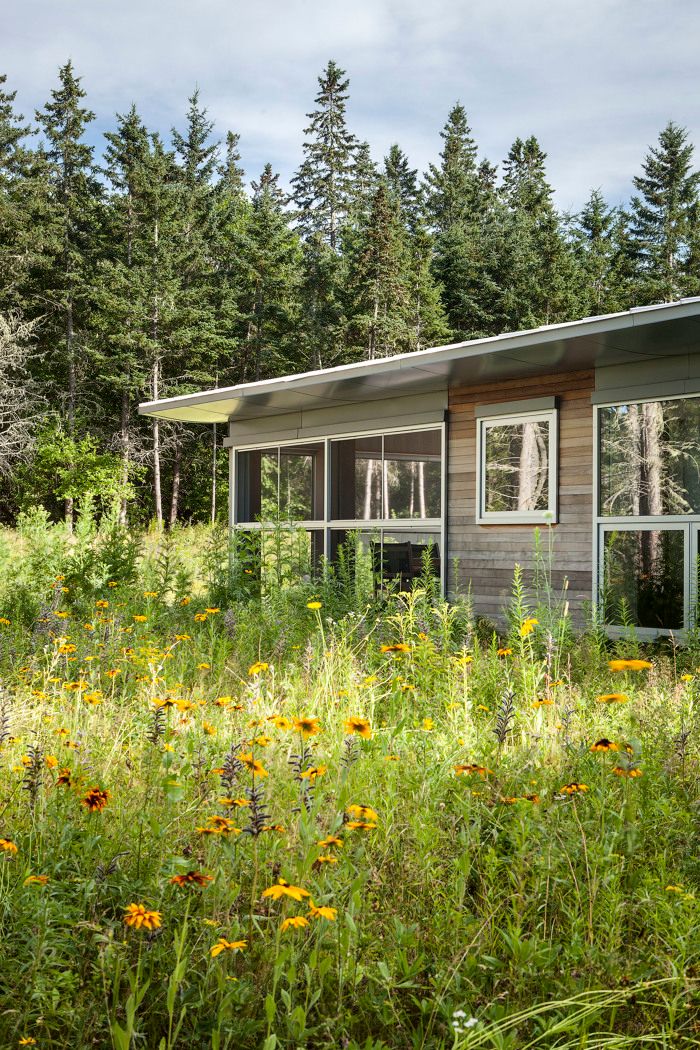 This 2,500 square foot house responds to the clients' desire for a contemporary, low maintenance home that is open and light-filled.
Fronting Smith Cove, a secluded deep water anchorage ideal for boating and kayaking, the site is densely wooded with filtered ocean views to the north. It slopes gently towards the water and is interspersed with ledge outcroppings. Natural light informed the section of the house, with high south-facing windows and an inclined roof on the backside that draw light into the narrow bar that overlooks the ocean. A variety of outdoor spaces, including a screened porch and sunken terrace, animate the site at different times of the day. The house is low-slung and quietly recedes into the landscape; at times it seems a ruin, in danger of being consumed by the native groundcover. From the entry, little is revealed, but once inside the site reasserts itself. The vegetation, in such close proximity to the house and seen through low windows, intrudes upon the internal space. The minimalist interiors and cool color palette welcome it.
The house follows the contours of the site, stepping with it to maintain a direct relationship to the topography. Material choices, inside and out, were driven by a desire for minimal maintenance and for their ability to merge with the landscape. The landscaping, consisting exclusively of regional plants, arrays vegetation tight against the exterior envelope further obscuring the distinction between inside and out.
The landscape consists of native plantings and was allowed to come right up to the house.
Entry and screen porch with weathered wood siding.
View of terrace with main house on left and guest bedroom wing on right.
Dining room and office with kitchen beyond.