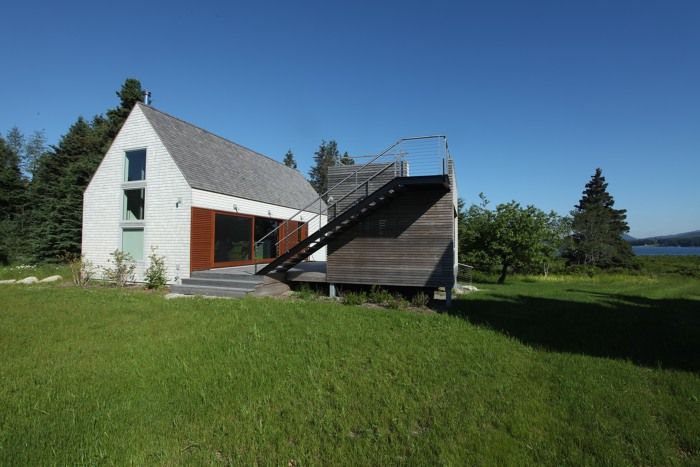 Located on a small island off the coast of Maine, this project began as a renovation. Initially, our clients hoped that an existing building on their property could be rehabilitated: a structure that accompanied the 100 year old farmhouse that has been their summer home for close to 40 years. The small, hip-roofed, asphalt shingle-clad building had been uninhabited and neglected for decades, and was in a state of disrepair. A new structure would more easily meet their needs but needed to remain rooted in the traditional style of the region. Collectively we arrived at a concept that is a modern interpretation of New England farm vernacular and establishes a hierarchical relationship between the prominent white clapboard farmhouse and the less adorned, shingled outbuildings.
In order to accommodate multiple generations of the family, the main farmhouse would be given over completely to the young parents and children, and the new house would become the more private space for the matriarch. Between the two buildings a common area of outdoor lawn spaces and decks was created, along with a screened porch that could serve as both a gathering/dining area at times, while doubling as a privacy screen. The new house would be small and efficient, but comfortable enough for year round use, something that the old farmhouse, with its electric heat and poor insulation, lacks.
Exterior of screen pavilion, deck, and house.
Close-up of screen pavilion and ramp to deck.
New house and screen pavilion with old farmhouse on right.