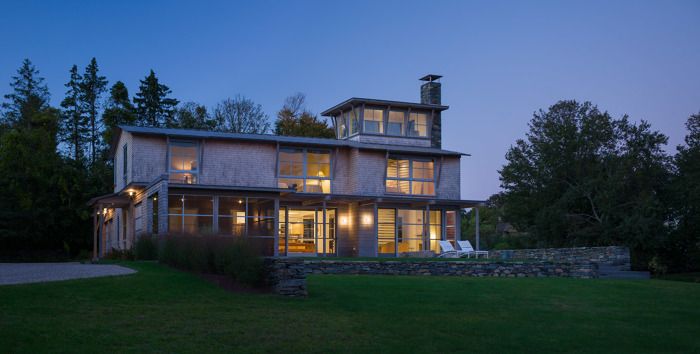 Paradise Avenue is a mile long, ending at a popular surfing beach. It is a picturesque but busy road, lined with old stone walls and houses set well back from the street.
Our client was looking for a weekend retreat from his city apartment.
Setbacks from a stream to the rear of the lot, required placing the house close to the road. The challenge was dealing with the attendant noise and lack of privacy in a way that allowed our client to enjoy the outdoors.
We rebuilt a stone wall and backed it up with a privet hedge to absorb sound and create privacy. The facade of the house has a garage to one side mirrored by porch and trellis on the other side. We used translucent white panels on both, which allow light in while preserving privacy.
The driveway becomes a linear courtyard reinforcing the separation of public and private spaces. The entry punctuates the long, flat street facade, reaching out and inviting you in.
First Floor: Entry, TV room, screened porch, large living/ dining/ kitchen area that flows to the outdoor terrace
Second Floor: Two guest bedrooms, master bedroom suite with access to the tower work space
The interiors spill out into the yard. The stone walls, trellis, pergola and stone paving soften the transition while creating outdoor rooms.