Croy Creek Mountain Modern Farmhouse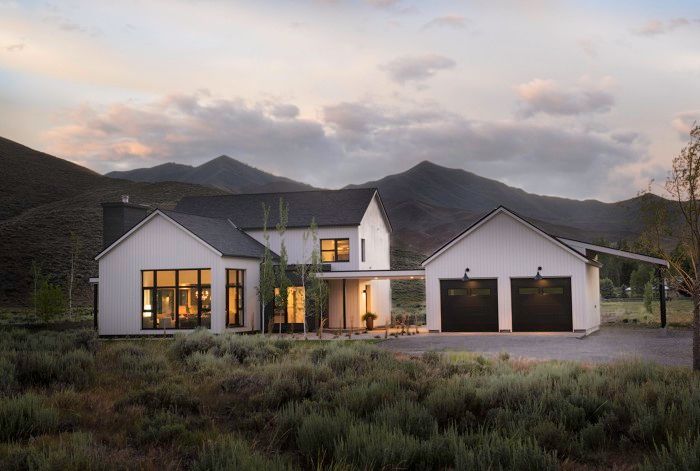 Our Croy Creek home is located on 6.17 acres outside the town of Hailey, Idaho. It is the first home to be built in a 300+ acre residential subdivision made up of 19 homesites. The surrounding land bordering this new subdivision is primarily used for farming, small ranchettes and mountain homes. Bringing a contemporary aesthetic to the subdivision required some care. It was important that the design of the new home didn't "stick out" or feel out of place.
To introduce a contemporary style in an otherwise rustic locale, we chose a simple, classic salt box shape that we modernized with massive off-set windows in the living room, flat roofs over the porches and front entrance, and linear grid-like landscaping that is made up of drought tolerant native perennials – key for our dry, high-altitude climate. The simple, boxy floor plan helped us achieve a tight, well-sealed building envelope that was essential for reaching our energy goals, and it also helped us with ease of construction. The detached garage keeps vehicle fumes away from the house, preserving indoor air quality, but the massing of the garage also makes the home appear larger than it actually is. Additionally, the exterior paint is a warm, earthy color with accents of dark, charcoal colored barn wood – an element often found in local building trends.
As for the building process, competing for labor against large, well established contractors was one challenging aspect of this project. We are a very small construction firm, recently established in 2014, and at the beginning of this project, made up of a husband/wife team. Going into the build, Russell (one half of the husband/wife team) was the only skilled carpenter we had. We spent a fair portion of the framing process trying to find good labor – individuals with a solid work ethic who were willing to learn (finding anyone experienced with building a net zero home was next to impossible). Ultimately, we found two great guys, and we trained them on site. Setting those 13' x 10' triple paned windows (for those big mountain views) with two guys and a forklift required planning, skill and no small amount of muscle. Ready-Frame pre-cut walls helped us save on time with our labor shortage, while also helping us keep within our budget and on schedule.
Despite the labor woes, and risk of building a contemporary home that didn't appease the neighbors, perhaps the biggest challenge we faced throughout the entire process was the fear of whether or not we could successfully execute all the new energy efficient building techniques that go into building a net zero home. For the most part, our net zero education has consisted of techniques we've learned about in magazines, video tutorials or from a Passive Haus builder course, plus Russell's 20 some years working as a carpenter. To supplement our patchwork knowledge, we enlisted the help of Jordan Goldman at Zero Energy Design to provide us with energy recommendations for the home, and worked with a local solar contractor for our solar array, but ultimately the job of building this high performing home landed squarely on us.
To our immense relief, the home exceeded our expectations. In one regard, it was the culmination of everything we have learned from the past six years of being in business. But as the owner/builders, we have had the pleasure of experiencing the astounding level of comfort that comes with living in a high-performing home. We joke that we are forever ruined. How could we ever live in a home that isn't high performing? Watching our energy usage hit zero month after month is as mesmerizing as looking out our big picture windows at the mountains beyond, knowing that we did it. We brought a beautiful high-performing near net zero home to a community that has seen a slow rise in energy efficient homes, all while learning how to own and operate a profitable business.
A Croy Creek residence located in the high desert mountains of central Idaho. Photo credit: Mike Schirf
Front entrance lit softly at dusk. Photo credit: Mike Schirf
Large Zola triple pane windows frame the main living area. Photo credit: Mike Schirf
The mixed use open floor plan is spacious, functional, and filled with light. Photo credit: Mike Schirf
The main floor master is quietly tucked behind the open living space. Photo credit: Mike Schirf