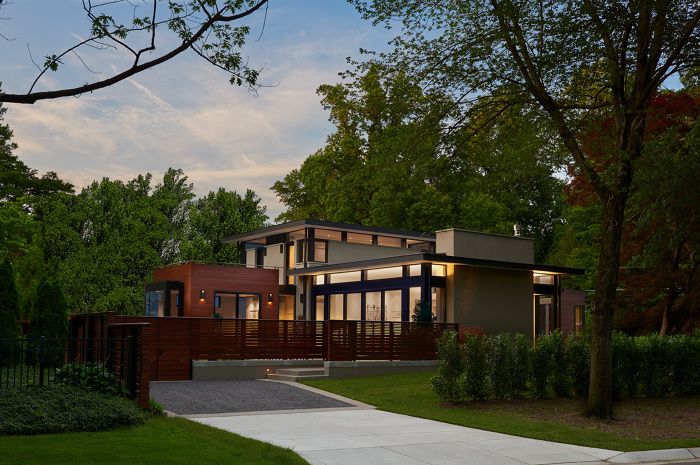 Situated on a corner lot in an established suburban neighborhood, the primary challenge was how to create privacy—both indoors and out. Toward that end, the architects sited the new house on the southeast corner of the lot, with the main mass on the north side. With the first-floor master suite facing north and the second-floor terrace overlooking a courtyard facing southwest, this arrangement blocks views from the adjacent neighbor. The clients requested first-floor living as well as the capacity for a consulting business (or future live-in caretaker accommodations) with private entry on the lower level. Deep overhanging eaves afford solar protection, and operable windows provide cross ventilation to minimize HVAC use in the summer. Additionally, thick stucco masonry walls on the two-story portion of the house serve as thermal mass, while stained cedar clads the two lower masses. The mixing of siding materials adds architectural interest, which breaks up the boxy shape. Strategic landscape hedges and plantings as well as a generous patio optimize outdoor living, and a sophisticated contemporary aesthetic characterizes the interiors.
The strategic orientation of a corner-lot house creates privacy for an older couple planning to age in place.
The house's courtyard features a practical patio ideal for entertaining or hosting parties in the warmer months.
This living room emphasizes natural lighting while offering its owners and their visitors a beautiful view of the nearby patio.
The living room from a different angle reveals a spacious seating area where the owners and their visitors can relax and unwind.
This side of the home reveals more of the cohesive, boxy style that characterizes the design.