Sponsored Post
Transform Your View With RailFX
Learn how to install the FlexFX cable-railing system on your deck or balcony for unobstructed, beautiful views.
Sponsored by RailFX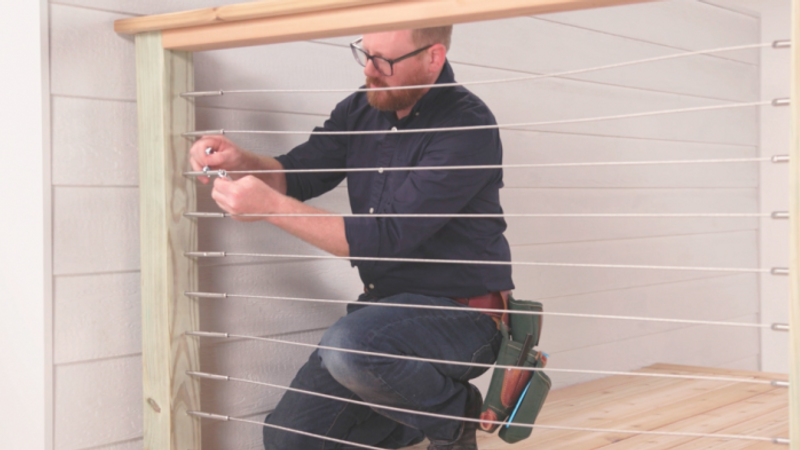 Transform the view from your deck with easy-to-install RailFX's FlexFX hardware for wood, metal, or sleeved posts. Easy-to-use push-lock and pull-lock fittings simplify installation for pros and non-pros alike, and don't require any special tools.
To install, fittings are laid out on posts at the desired cable spacing and predrilled for fittings that are driven into place with a drill and supplied hex bit.
Each cable run requires a tensioning push-lock fitting on one end and a non-tensioning push-lock fitting on the other. Cables are inserted in the non-tension fittings first and pushed in to lock in place. Then, cables are stretched to the tensioning fitting where they are marked for cutting. The cable is easily cut with wire cutters.
When inserting, twist the cable clockwise, or rotate the fitting counter-clockwise, as the cable is pushed in to lock it in place. Then, finger-tighten the tensioning fittings to take the slack out of the cables. Final tensioning is done using two supplied open-end wrenches and begins with the middle cable and fans outward, alternating up and down until it ends with the top and bottom cables.
Installing on runs over 5-ft.
For cable runs over 5-ft., intermediary posts are needed for strength and support. These install easily and match the overall layout so cables pass through in perfect alignment. On the post topping the stairs, holes are drilled so cables pass through completely with post-protector tubes installed to prevent wear at the bend. For hardware, tensioning push-lock fittings are installed along the upper post with hinged non-tensioning fittings along the newel. Cables are threaded through the intermediary post first, then through the wood post and into the newel where they're locked in place. Then the cables are pulled taut, marked along the tensioning fitting for cutting, and inserted into the fitting.
Ideal for interior and exterior projects, the FlexFX stainless-steel cable and fittings are perfect for unobstructed views on your deck, balcony or stairway. The FlexFX Program includes hardware options for wood, sleeved, or metal posts, available in 1/8-in. and 3/16-in. thicknesses.
For more information, visit www.railfx.net