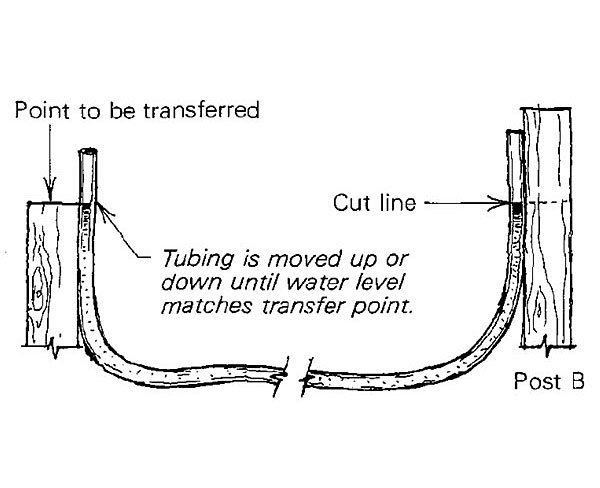 Let's say you've just put four posts in the ground for a sun deck and now need to cut them all off at the same height. What do you do? If you have a builder's level or transit you're all set, but if you don't, this water level is a very simple and inexpensive way to solve the problem. It consists of any length of clear plastic tubing (or a hose with clear plastic extensions at the ends) and works on the principle that water seeks its own level.
First, fill the tubing with water, leaving a foot or two of air at the ends, and hold one end against the point to be transferred, as shown in the drawing. Another worker takes the other end of the tubing to the first post to be cut off (post B in the drawing).
The person at post B holds the tubing against it while the person at the other end moves the tubing up or down until the water level in the tubing matches the level of the point to be transferred. When this has been accomplished, the waterline in the tubing at post B will be the same as at the transfer point.
Always transfer levels from the original point to lessen accumulated error. Remove all the air bubbles from the tubing — they can affect accuracy. Remember that no part of the tubing should be higher than the ends.
This tool is useful in many ways on a building site. We use it whenever we need to transfer a level point farther than the length of a carpenter's level.
—David Barker, Gardiner, ME
Edited and illustrated by Charles Miller
From Fine Homebuilding #6