Design
The Kitchen Cabinet
How to design and build one with basic tools.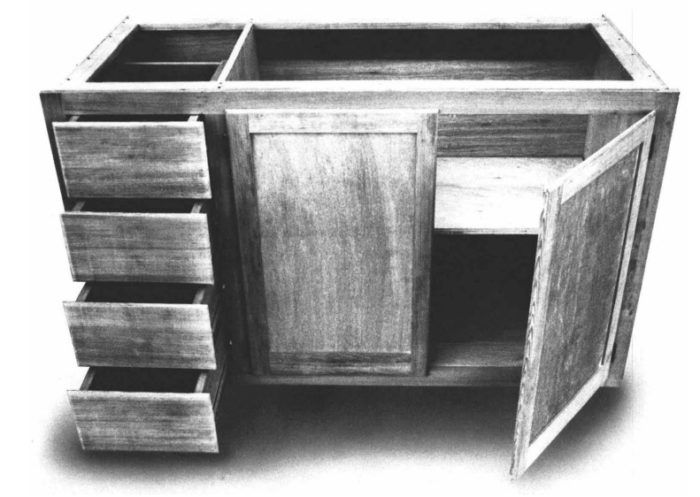 Synopsis: A cabinetmaker offers step-by-step instructions for making a conventional face-frame kitchen cabinet. Techniques are geared for those without special tools. He even includes a cutting list for the cabinet he builds. This is a basic introduction to the subject.
The fundamental building block in every successful kitchen is the below-the-counter cabinet. It supports the work surface above and makes for organized storage beneath. Though this essential built-in can take on a multitude of styles and refinements, at heart the construction requirements are all the same. A sturdy case and framework, easily operable drawers, doors that fit and proper scale are common to good cabinets, whether made of painted plywood or expensive hardwood. In this article, I will describe the basic steps involved in building an uncomplicated, yet handsome, kitchen-cabinet unit for about $140 in materials.
The cabinet shown in this article is the standard 24-in. depth, and is designed for the typical 3/4-in. thick by 25 1/2-in. plastic-laminate countertop. Its 35 1/4-in. height, also standard, accommodates appliances such as dishwashers and trash compactors, and presents the countertop at a level on which most people can work comfortably. These dimensions are used widely in the trade, but you can change the height to suit yourself just by adding or subtracting an inch or so. The 54-in. length here is arbitrary, but it makes good use of a single sheet of plywood and has room enough for a small sink to be let into the countertop. Also, a cabinet of this general size is small enough to move easily from shop to site — an important consideration.
Starting out
Constructing cabinets should always begin with a drawing of exactly what you have in mind. The drawing is indispensable for working out proportions, making cutting lists and for seeing the relationships between the different parts. You can use the drawings and cutting lists here as models for preparing your own design and material requirements. If you do as much as you can on paper before you cut any wood, you'll save yourself a lot of time and frustration.
Almost all cabinets have the same parts: a case (or carcase), a face frame, doors and drawers. The cabinet shown here is designed to feature wood, and therefore has a carefully-joined face frame and panel doors. The face-frame members are doweled together, and the whole frame is then applied to the front of the case. It provides jambs for the cabinet doors, defines the openings for the drawers and generally stiffens the carcase and helps it resist lateral racking. The doors and drawers have 3/8-in. rabbeted inner edges so they overlap the face frame 3/8 in. to form a lip on all sides, and so the drawer fronts and door frames project 3/8 in. beyond the plane of the face frame. This arrangement looks good, and the rabbets allow considerable latitude in fitting doors and drawers into the cabinet. Once the face frame is made and attached, however, you can choose between either overlay or flush detailing, as shown in the drawing here.
For more photos, drawings, and details, click the View PDF button below:
View PDF