How-To
Floor Sanding
Follow a pattern with powerful machines for best results.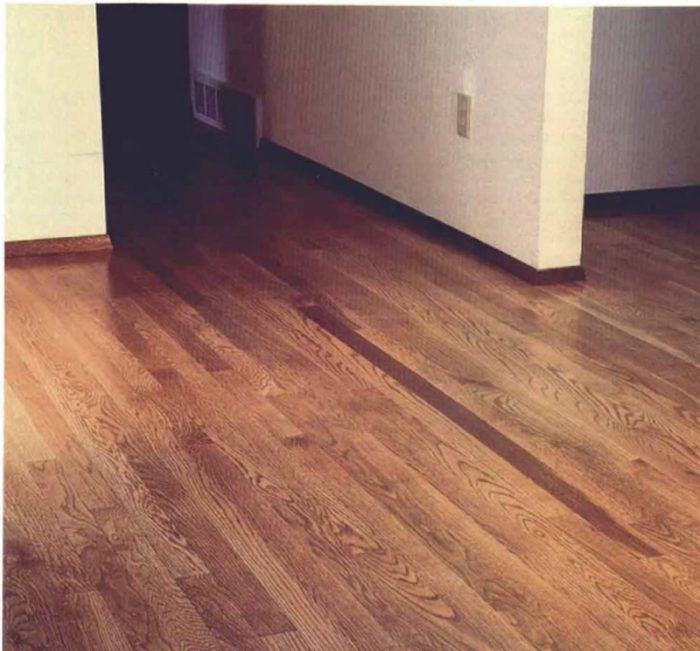 Synopsis: A flooring specialist explains how to use heavy floor-sanding equipment, tools that have the reputation for causing problems if they aren't operated properly. If you're doing the job yourself, these tips will help.
Sanding a floor is nasty work. It's noisy and dusty, and it takes a fair amount of practice to do it right. It's one of the most frequently subbed-out jobs. But a lot of people are willing to take it on for the first time, as owners of tool-rental shops will readily attest. Here are some tips, and a few precautions.
Preparation
Take everything that isn't nailed down out of the room. Cover the built-ins with plastic sheeting, and tack sheets of plastic across any doorways. Rolled-up towels laid against the bottom of the far side of doors in rooms being sanded will also help to contain the dust.
Sweep the floor clean and set any protruding nails at least 1/16 in. below the surface. Repair loose boards or squeaks with nails driven into joists. If there's room under the floor, I like to fix squeaks by driving screws through the subfloor to draw the hardwood tight against the underlayment. These screws have to be ¼ in. shy of the total thickness of the subfloor and the flooring.
You'll need a dust mask while you're sanding. You may want to wear some ear protection, too. Wear shoes that don't have crevices in the soles that can pick up grit. Sneakers or running shoes are good, but avoid the ones with black soles—they can leave scuff marks that are hard to remove.
The tools
It takes two basic kinds of sanders to finish (or refinish) a floor: a drum sander and a power edger. Both are available at tool-rental shops, and both require some muscle and practice to use correctly.
The drum sander, or floor sander, is used to sand most of the floor. It is a formidable machine. Even the smaller versions weigh about 125 lb., and they look like a cross between a lawn mower and a steamroller. They need their own 15-amp circuit to operate an 8-in. drum that rotates at about 5,000 rpm. When this drum is fitted with coarse-grit paper and lowered onto the floor, it wants to take off like a dragster. If you hold it in one place, it is inclined to eat its way through the floor and into the basement. It's not a machine to be taken lightly.
But it's the only tool for the job, and with some practice, an operator can develop the required light touch. The first-time user should practice on a section of floor that won't be in direct view. Try a bedroom floor or part of a room that will be covered with a rug. And sand only with the grain.
As in any sanding job, you start with coarse-grit paper and work up to the fine grit. It takes quite a few sheets of at least three different grits to do an entire floor. Sheets are sold at the rental shops, and you can generally return the ones you don't use. Take plenty.
For more photos and information on tools, click the View PDF button below. 
View PDF