Podcast 606: Foam Slabs, Gaps in Click Flooring, and Board and Batten Rainscreens
The crew hears from listeners about tight-fitting batt insulation, integrating HVAC equipment, and housing affordability. Discussion questions include foam insulation instead of a concrete slab, closing gaps in laminate flooring, and rainscreens under board siding.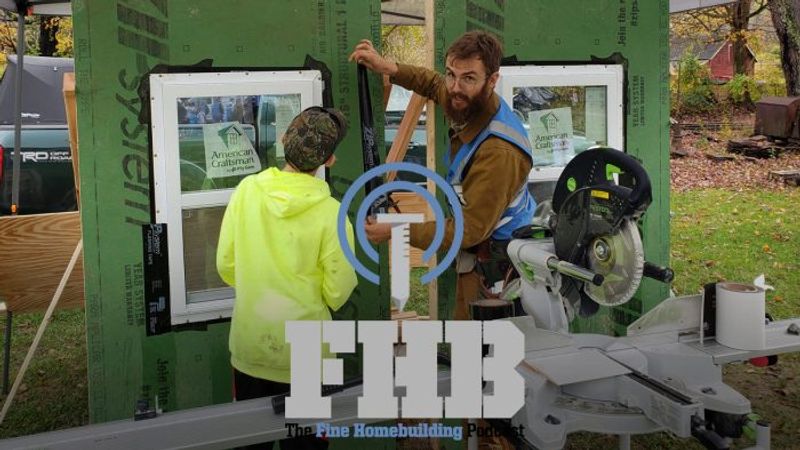 ---
Follow the Fine Homebuilding Podcast on your favorite app. Subscribe now and don't miss an episode:
Help us make better episodes and enter for a chance to win an FHB Podcast T-shirt:
www.finehomebuilding.com/podcastsurvey
Wade shares video of a conscientious carpenter in Japan. Evan says new systems will help integrate HVAC equipment based on indoor and outdoor conditions. Doug wonders if energy-code requirements are over the top. Steve is considering a concrete-free slab for a DIY cabin build. Wyatt has gaps in his flooring. Keith wants drainage and drying behind his board and batten siding.
---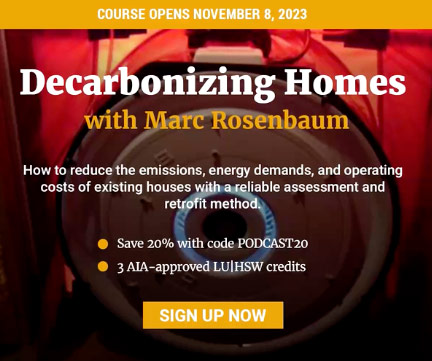 We've created a custom eLearning coupon for podcast listeners – code: PODCAST20
The Sustainable Home Building Accelerator
This intensive, interactive online series of courses is designed to rapidly advance your knowledge of sustainable home design and construction. Whether you're an architect, builder, or a homeowner, we'll give you the information and confidence to design and build well-crafted, practical homes that maximize performance and comfort.
Over 11 hours of video. AIA Approved 10 HSW/LU Credits. Resnet 10 PD Credits.
When you purchase all three courses, you'll receive access to a year of GBA Prime as well as a copy of the Pretty Good House book!
Remember the code PODCAST20 for any Fine Homebuilding courses.
Editor Updates:
Brian: producing content for Fine Homebuilding, home PV update
Jeff: water heater consumption update
Patrick:  digging up fly ash for concrete:
Eco Material Technologies announced today a second partnership with Georgia Power to harvest millions of tons of landfilled ash from Plant Branch, a coal-fired power plant that retired in 2015, after announcing a similar project at Plant Bowen that has already begun construction.
The effort will remove and beneficially use more than 8 million tons of fly ash that would otherwise sit in a landfill. The ash will be put through Eco Material's proprietary ES EcoSystem Efficient Carbon Offloading solution that will bring the ash to the required specification for use in concrete and other building materials. Eco Material sees this as a program that should be duplicated across the country at many other coal plants where an unwanted by-product can be used to create sustainable, stronger cement products. The ash from Plant Branch will be used in concrete blends to repair and construct bridges, roads, and buildings in Georgia and the rest of the southeastern US, reducing dependence on imported materials.
---
Listener Feedback 1:
Wade writes: Hey Patrick and crew,
I think you will adore the content of this video on YouTube.
This Japanese woodworker has been building a small structure and documenting the process. Look at how meticulous he is with the fiberglass batt, as well as the air-barrier membrane and taping of the seams.
On top of his attention to detail, he is not afraid to install the fiberglass without gloves or sleeves, and comments that he's almost sad that he doesn't feel the old "itch" as strongly as he once could—one of the side effects of growing old.
By the end of the video, he admits he's not very good at this kind of work, but the blower-door results say otherwise at a whopping 0.4 ACH. Keep in mind that smaller structures tend to be harder to achieve lower scores simply because of the reduced building volume.
Lots of patient and methodical work to watch here and on the rest of his channel. I hope you all enjoy.
Long-time listener, and All Access member,
—Wade
P.S. Please call on Jeff more often and don't let him get away with his quick one-word answers. We know he's not a fan of the spotlight, but he's so brilliant and often has the best answers/advice out of all you!
---
Listener Feedback 2:
Evan Bache-Wiig from Dallas, TX, writes: Good afternoon, crew!
In episode 600, you had someone who bought a 2021 spec house write in with a question about how to manage dehumidification with a house that has multiple systems working to control the environment.
Down here in climate zone 3A we can have similar problems. It is a challenge when I recommend that a client install a whole-house ventilating dehumidifier that somehow should interface with existing air handlers, hood vents, bath fans, ERVs, make-up air systems, etc.
A potential option that I have come across is the HAVEN Pro by Zoa. I do not have first-hand experience with it, but I like the concept a lot. It is a indoor-air-quality monitor that is similar to what the writer of the question already has in his home, except that it is installed in the return side of an air handler. Based on the readings that it takes, it can modulate the equipment for you. For instance, if your humidity rises above a set point, then it turns on your dehumidifier, or if PM 2.5 is high it will turn on the ventilator. As home systems get more complex, interfaces like this will become necessary. I hope this helps! Keep up the great work on the content.
Related Links:
---
Listener Feedback 3:
Doug writes: Hi Patrick and team,
On the Podcast 600 Aftershow you touched on the effects of new energy codes for builders. I think you have to also look at cost and ask if this is sustainable. Recently I was watching the new season of This Old House. The project is a mid-century home that has been added on to in the past, and they are remodeling that portion as well as adding a large addition. It was explained that Massachusetts has passed a new energy code that requires any existing house with an addition over 1000 sq. ft. to meet the new energy requirements. This will entail upgrading insulation in the walls and ceiling of the old portions. It was stated that this will add 25 to 30 percent to the cost of the remodel.
Colorado has passed new energy requirements that are very controversial. Some of the claims of those opposed are bogus, such as it costing $2000 more to wire a garage for an electric car. That maybe be true on a retrofit maybe, but not a new build.
I know some will say that the energy savings will over time pay for the upgrades. This doesn't help the buyer who is already priced out of the market. When I finished our house in 2011, the county valued it at $255,000; now they say it is worth $625,000. I don't see how anyone can buy their first home today. While energy conservation is important for our planet, at what point does it leave more people without a home.
I look forward to some wisdom on this topic,
Doug
Related Links:
---
Question 1: Will a concrete-free slab and permanent wood foundation work for my new cabin build?
Steve in Queens, NY, writes: Hi podcast crew,
I love the show. Your team has kept me entertained on many an evening spent circling the block in Queens, NY, looking for a parking spot. On unlucky parking nights, the silver lining is making it through a whole episode (or more) before I find a spot!
I have been designing a family cabin for the past year and have been waiting for just the right question to come along before writing in to the show. I hope this one provides you all with plenty to dig into. I am working on foundation details for the small, timber-framed cabin I plan to build next summer in the Catskills in upstate NY (climate zone 6). This design is a bit of a Frankenstein, but it seems pretty solid to me. Best of all, it is very DIY friendly, which is what I'm aiming for. I'd love to get some expert takes on what I might be missing.
The 32-ft. x 24-ft. cabin will sit on a slope and have a 20-ft.-deep walkout basement cut into the hill, with the floor a bit above grade in front. There will be a second story on top of this basement level. Behind the basement, I want to step up about 4 ft. 6 in. to another floor that will sit  just above the higher grade further up the hill.  To get below my 48-in. frost line, I plan to use the pier and grade-beam approach, which is pretty typical for a small timber frame since all of the load is concentrated at those piers anyway. For the floors, I am intrigued by the concrete-free slab idea, and I think this might be a great application for that design.  My specific questions are:
1. Are there any issues with using the concrete-free slab inside my 8×8 pressure-treated grade beam? I'm thinking the beams would be supported by the concrete piers and also be sitting over about 6 in. of crushed stone or gravel. This should keep them nice and dry and provide a solid support to mortise in the 8×8 posts that make up the frame. Inside those beams, the 6-in.-deep layer of stone would continue, followed by an inch or two of pea gravel, two layers of 3-in. EPS to bring it up to the top of the beams, vapor barrier, and a double layer of pressure-treated subfloor.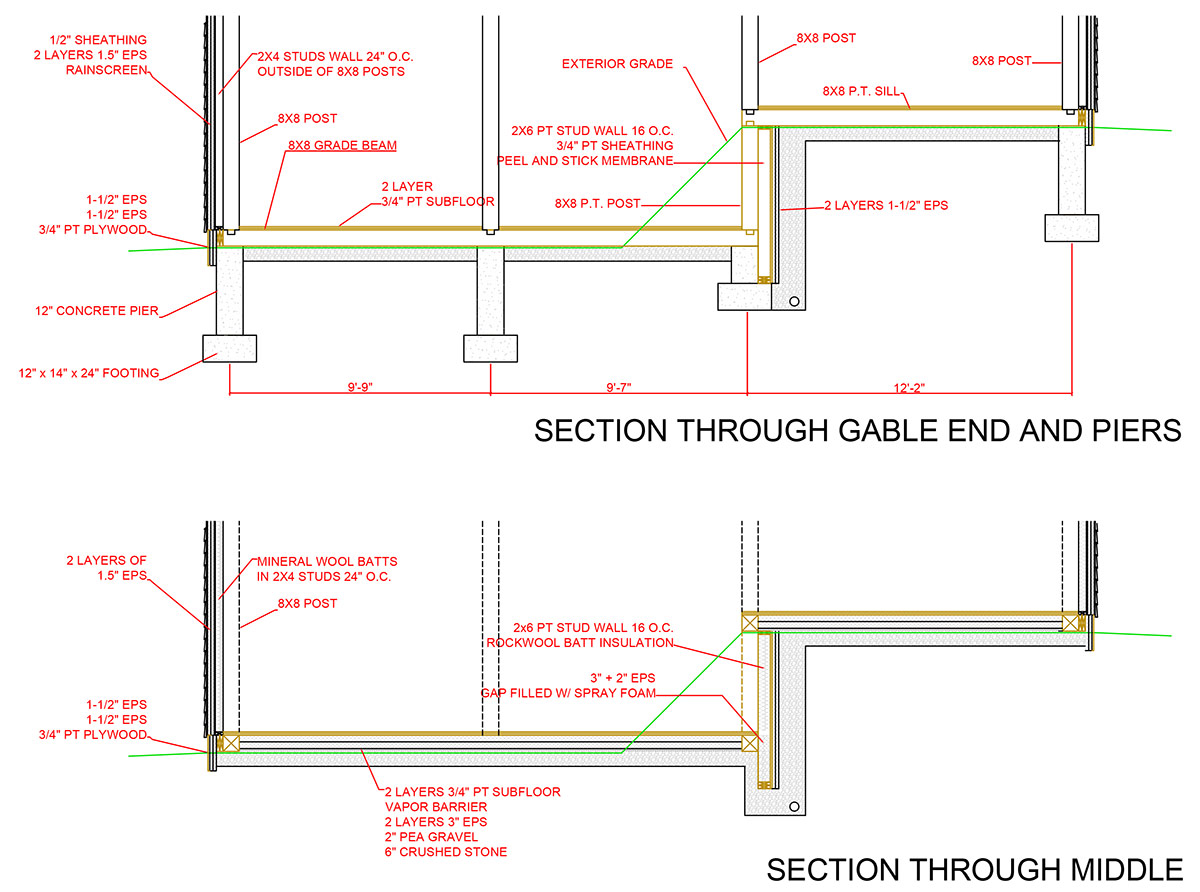 2. Where the floor steps up from the walkout level to the upper level, I will need a retaining wall. I'm thinking about taking the details from the permanent-wood-foundation (PWF) specifications and using that as the retaining wall. The PWF will also wrap around a bit of the basement, where some of the end walls are below the sloping grade. Does this raise any red flags (besides the red flags that get raised whenever PWFs are mentioned)? Seems simple enough, and given that that whole wall is under the cabin, I can't imagine there would be much water reaching it anyway.
Thanks a ton. I hope to hear your takes during my next alternate-side parking night.
Related Links:
---
Question 2: How do I fix the gaps in my new LVP floors?
Wyatt writes: Hey guys!
I love the podcast, and I'm still slowly working my way through the earliest episodes. Along the way you may have answered this, but here goes!
As a little background, I'm located in the Pacific Northwest. and my house is a 1996 rambler with a crawlspace. At a certain point, we did a whole-home remodel. This consisted of removing one non-load-bearing wall and rerouting electricals that were in that wall; moving a woodstove from the dining room to the living room; new kitchen cabinets and countertops; and a new floor (amongst other minor details).
I saved flooring for one of the last things for obvious reasons. I chose flooring for the guest bedroom first. Installation went well, but I wasn't a fan of the design once it was laid down over a large area, so I decided to switch it up for the nursery and I loved it! Both LVPs were from Floor & Decor (I believe NuCore was the brand, but I can confirm if needed). Basically, it is a tongue-and-groove LVP with ends that were not tongue and groove but clicked together to form a watertight seal.
Now onto the common areas of the house! But there's one problem: My wife didn't like how dark the nursery floors are for the rest of the house. So we branched outside of Floor & Decor, and we ended up landing on an LVP from LL Flooring. This flooring was significantly more difficult to install, as it is tongue and groove along the length and the width. However, I got the common areas floored. All floors got an underlayment on top of the subfloor (which was thoroughly cleaned and de-stapled first). Flooring sat in the home for a few weeks prior to installation to acclimate. Now here's the issue.
While the two bedrooms remain looking great, there are many spots along the common areas where the flooring has popped apart lengthwise between boards since installation! I'm not sure why this happened, and although I'm dreading the proper answer is to reinstall it or something else, I'm curious if you guys have another fix? Pictures attached.
Related Links:
---
Question 3: Are there rainscreens for board-and-batten siding?
Keith writes: Hey there!
I've been on a board-and-batten siding kick for a few years now and really appreciate the ease of install, durability, aesthetics, etc.
There are various local mills here on the Oregon coast where I can source great material like Port Orford cedar for my board-and-batten projects. Or I can fell a few trees at my place and mill up some board and batten if I'm feeling like a workout.
I'm devouring some fun building books, and the emphasis on rainscreens for siding makes me ponder a board-and-batten rainscreen. All the details I see call for vertical strapping over OSB or plywood with horizontal siding material like fiber-cement lap siding. So are there any good ideas for board-and-batten rainscreens? I'm assuming I would just run horizontal strapping so I can attach vertical board-and-batten siding. I worry that the bands of horizontal strapping would be moisture dams trapping the downward flow of water on the WRB. Should I just do gaps on the strapping every 2 ft. or so? Any ideas on a strapping product that can be run horizontally across the building while letting moisture run down?
Thanks, Keith
Related Links:
---
END NOTE:
Podcast 606: Members-only Aftershow — Making FHB Content
The crew talks about what it's like to make FHB articles and video from both an editor's and contributor's perspective.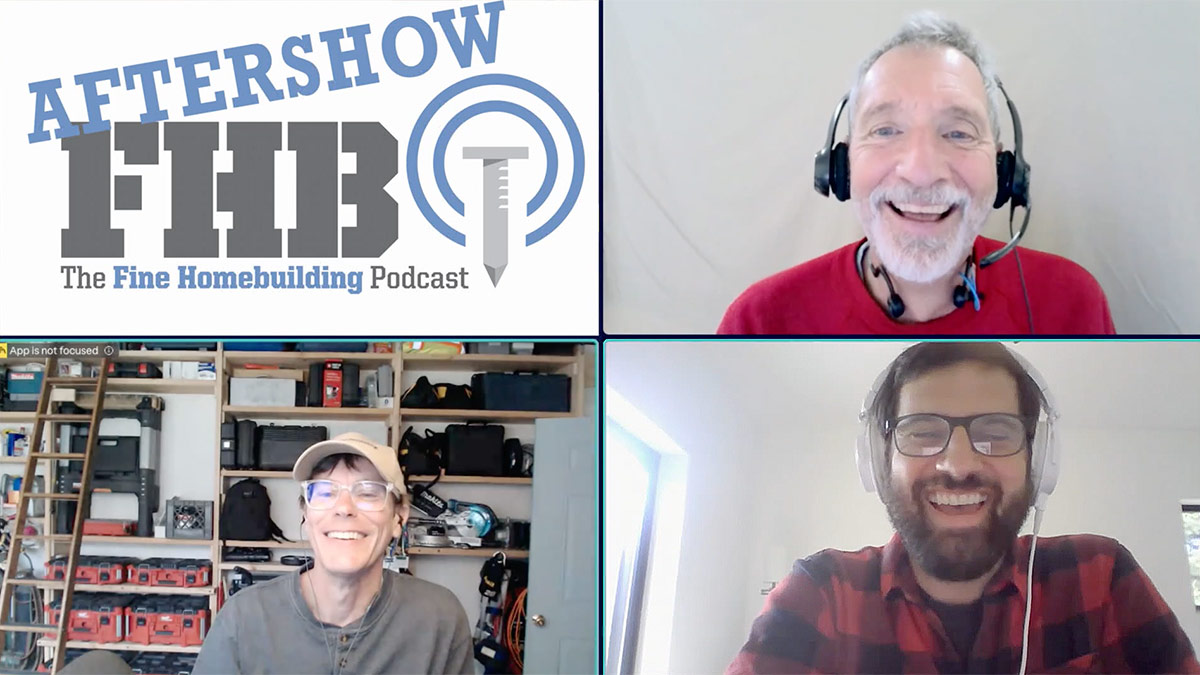 ---
This episode of The Fine Homebuilding Podcast is brought to you by Loctite's Tite Foam


Say no to inefficient and drafty. Say yes to Loctite Tite Foam.
When pros need to seal gaps too small for insulation but big enough to create a draft, they reach for Loctite's TITE FOAM.
The high-density foam forms a tenacious bond to most common building materials, stays flexible to prevent cracking, and keeps air, moisture, and pests out of the house.
Whether you're adding R value to the rec room, or finishing a boring basement, give that space a second chance with Loctite Tite Foam.
Visit LoctiteProducts.com for more information.
---
Check out one of our latest Project Guides: Energy Retrofit!

Check out our FHB Houses:

Visit the Taunton Store  •  Magazine Index  •  Online Archive   •  Our First Issues   •  All Access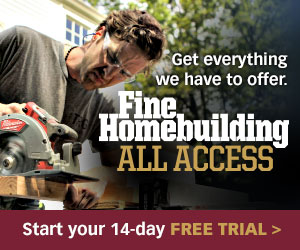 ---
Help us make better episodes and enter for a chance to win an FHB Podcast T-shirt: www.finehomebuilding.com/podcastsurvey
---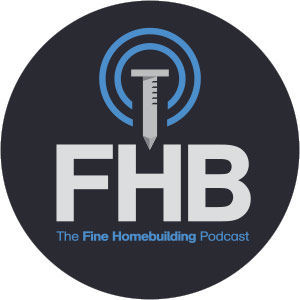 If you have any questions you would like us to dig into for a future show, shoot an email our way:

[email protected]

.
If we use your question we'll send you a FHB Podcast sticker!
---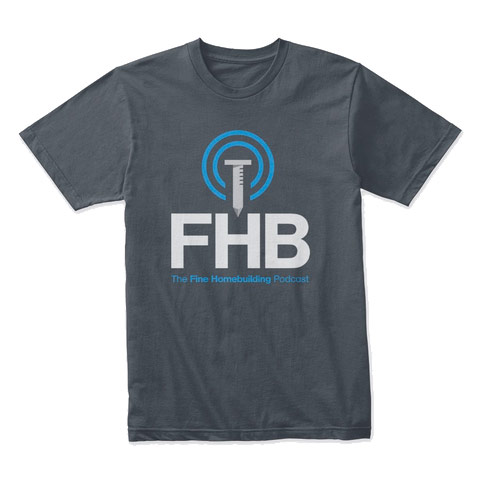 FHB Podcast T-shirts!
Represent your favorite podcast! Available in several styles and colors. Made from 100% cotton. Find the Podcast t-shirt and more cool products in the Fine Homebuilding Store.

---
Fine Homebuilding podcast listeners can now get 20% off anything in the Taunton store, including Pretty Good House.

Use the discount code FHBPODCAST to take advantage of this special offer.

"Finally, knowledgeable people talking about building reasonably-sized, high-performance houses for normal people with real budgets!"
— DanD, VA, 8/19/22, Amazon.com review
---
We hope you will take advantage of a great offer for our podcast listeners: A special 20% off the discounted rate to subscribe to the Fine Homebuilding print magazine. That link goes to finehomebuilding.com/podoffer.
The show is driven by our listeners, so please subscribe and rate us on iTunes or Google Play, and if you have any questions you would like us to dig into for a future show, shoot an email our way: [email protected]. Also, be sure to follow Fine Homebuilding on Instagram, and "like" us on Facebook. Note that you can watch the show above, or on YouTube at the Fine Homebuilding YouTube Channel.
The Fine Homebuilding Podcast embodies Fine Homebuilding magazine's commitment to the preservation of craftsmanship and the advancement of home performance in residential construction. The show is an informal but vigorous conversation about the techniques and principles that allow listeners to master their design and building challenges.
Other related links