How-To
Putting Down a Brick Floor
The mason's craft is easier when the bricks are laid on a horizontal surface.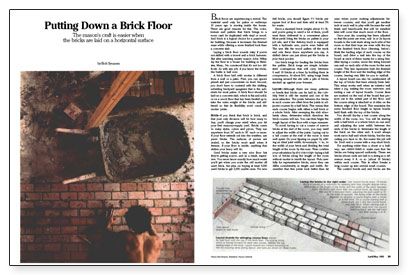 Synopsis: The author reports on how one mason lays an interior brick floor over a concrete or wood surface. Bricks are set with mortar, not dry-laid. The article covers materials, tools and techniques.
Brick floors are experiencing a revival. The material used only for patios or walkways 10 years ago is moving inside the house. There are good reasons for this. The color, texture and pattern that brick brings to a room can't be duplicated with vinyl or wood. And brick is a logical choice for a passive-solar building, because it increases the thermal mass while offering a more finished look than a concrete slab.
Laying a brick floor sounds risky if you're not skilled with a trowel and a brick hammer. But after watching master mason John Hilley lay the floor in a house I'm building in Brewster, Mass., I'm convinced that it's not too difficult. As with any job, if you know the tricks, the battle is half over.
A brick floor laid with mortar is different from a wall or a patio. First, you can ignore plumb and just concentrate on level. Second, you don't have to contend with the shifting, subsiding backyard quagmire that is the substrate for most patios. A brick floor should be laid on a concrete slab, which is flat and solid; or on a wood floor that has been beefed up to take the extra weight of the bricks and stiffened so that its flexibility won't crack the mortar joints.
Brick
If you think that brick is brick, and that your only decision will be how many to buy, you'll change your mind when you hit your first masonry-supply yard. Bricks come in many styles, colors and prices. They run anywhere from 30¢ each to 50¢ each or more. If your floor extends out into the weather, use paver bricks. The surfaces of pavers are sealed, so the bricks won't spall when it freezes. If your floor is inside, anything that strikes your fancy will do.
Used bricks make a very nice floor but they're getting scarce, and as a result, expensive. You never know exactly how much waste you'll get when you scale the old mortar off used brick, but plan on buying at least 3,000 used bricks to get 2,000 usable ones. For new 4×8 bricks, you should figure 4 1/2 bricks per square foot of floor and then add at least 5% for waste.
Since a standard brick weighs about 4 1/2 lb. and you're going to need a lot of them, you'll want them delivered to a convenient place. Most yards bring the bricks on pallets to your job site, and if the delivery truck is equipped with a hydraulic arm, you're even better off. The arm lifts the wood pallets off the truck and sets them down anywhere you say. A skilled driver can just about put the bricks in your back pocket.
For more photos, illustrations, and details, click the View PDF button below:
View PDF