How-To
Timber-Frame Layout
Systems for labeling the timbers and adjusting the joinery keep the frame plumb and true despite variations in dimensions.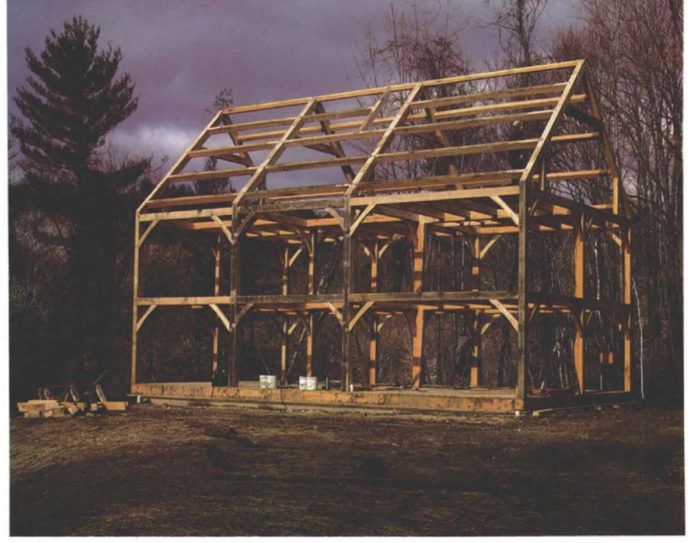 Synopsis: A timber-framed building has hundreds of individual parts, many of which look much the same. In this article, Tedd Benson, an influential timber framer from New Hampshire, shares his methods for labeling parts of a frame to avoid confusion and to accommodate slight irregularities in the wood.
The mystique that surrounds the craft of timber framing often clouds a full understanding of the kind of work that goes into cutting, assembling and raising a frame. It's easy to imagine yourself paring off fine shavings with a razor-edged chisel and raising timbers in communal euphoria. There's real satisfaction in pushing a tenon home into its perfectly mated mortise, or in driving the pegs to lock the joint. All these things contribute to the pleasures of framing with timbers.
But precise joinery is only a small part of the process. Many of the frames we build contain well over 200 timbers and 350 connected joints. The frame shown in this article was raised in one dramatic day by a crew of five and a crane. But this day was merely the culmination of all the work that preceded it. There were five days of sanding timbers and assembling bents, and before that, many hours of work in the shop.
In order to work with speed and efficiency, there can't be any mystery whatsoever about what timber goes where. And all the timbers must fit exactly — a single misaligned joint stops a raising dead in its tracks.
We lay out, cut, and finally truck a completed frame to the site without test-fitting the joints. We're able to do this only because every frame evolves with a great deal of planning, some applied geometry, and an organized approach to layout and cutting.
With an organized system and good preparation, a beginner can get through a difficult project. Without them, even a master joiner couldn't possibly succeed.
We apply three systems to the timbers and joints. Labeling is a system for identifying each member so we know where it fits within the overall frame. Layout is a method for locating and marking each joint so that all timbers will align correctly. Mapping is a system of accounting for variation in timber dimension and adjusting the length of adjoining timbers accordingly, so the completed frame will be true to its planned measurements.
To demonstrate how these planning principles work, I'll use the frame shown here as an example. These systems apply to every frame we construct, but we have to modify them somewhat to meet the specific demands of each new frame.
Labeling
After we finish the blueprints for a house, we draft a complete set of shop plans for the frame. This set of working drawings typically includes elevations for each bent and wall, a plan view of each floor to show joist and beam locations, and large-scale sections or blow-ups of any unusual joinery details. At this stage, all joinery decisions have been made, and every timber has been sized in dimension to support its respective load.
For more photos, drawings, and details, click the View PDF button below:
View PDF