Design
Soundproofing a Music Studio
Some practical solutions to noise pollution.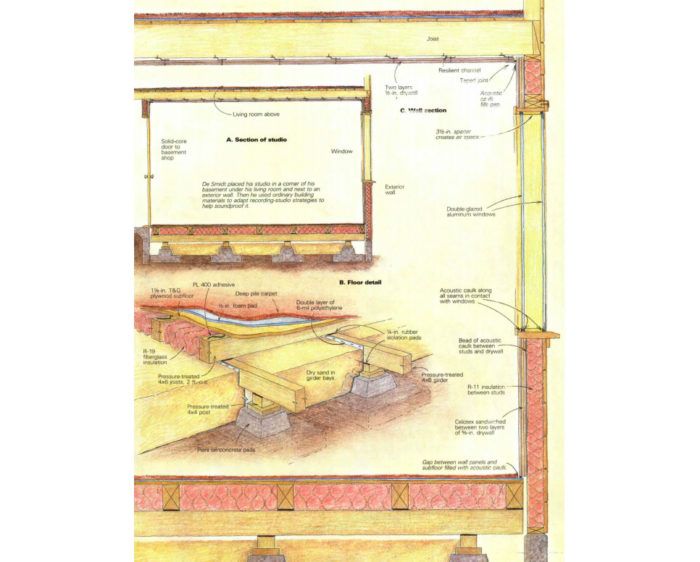 Synopsis: A part-time musician creates a sound studio at home with inexpensive, readily available materials that absorb sound, such as gypsum drywall, fiberglass batt insulation, and even dry sand. The key here is low-tech efficiency.
My daytime job is building. But after dinner I like to turn to my night time profession, which is singing and writing songs. My song writing career doesn't require a lot of space, but I do need a room that is quiet enough to let me record my work without picking up the sound of my neighbor's table saw, or my foot thumping on the floor. On the other hand, I don't want to bother my neighbor or the rest of my family with the percussion tracks from my drum machine or the occasional fuzz tone guitar riff.
When I set about to build my own recording studio, I had to solve a wide variety of sound problems. What's more, I didn't have a big budget to invest in the project. I had to limit my construction details to readily available materials that could be assembled in a straightforward manner. What I discovered as I researched soundproofing techniques can help others who want to build a quiet room for music, or just want to cut down on the racket from somebody's upstairs TV.
Identifying noise
When I began planning my studio, the first order of business was to decide where it should go. I chose an unfinished section in my basement that is adjacent to an exterior wall, and directly below my living room. Next, I had to identify all the nearby sources of noise, and find a way to reduce each one to a tolerable level.
To begin, I sat in the unimproved corner of my basement at different times of the day and night, listening for whatever I could hear. I heard airborne noises conversations, barking dogs, cars driving by the house, a radio and a television, a vacuum cleaner, and my kids hollering at each other upstairs. I also heard water pipes knocking, the moan of the refrigerator, and balls bouncing on the floor directly above me. These were impact noises. One impact noise was especially pronounced my 13-year-old son practicing his break-dancing moves in the attic. Each time he slammed his knees to the floor, the whole house shook.
In order to isolate my studio from these sounds, I investigated the elaborate methods used in commercial recording studios. I discovered that one studio I sang in was actually built inside another structure (and at great expense, I might add). The key to its success was that it completely eliminated the street noise outside and the office racket upstairs by isolating itself from the rest of the building. The studio floor was a massive slab that rested on individual pins mounted on piers. Inside, the studio walls and ceiling were equipped with sound-absorption cavities, which are baffled pockets that trap unwanted sound. Solutions like these are quite expensive, but they can certainly be adapted for use in a residential setting in economically practical ways.
For more photos, drawings, and details, click the View PDF button below:
View PDF