How-To
Decorative Sidewall Shingles
Custom-cut wood shingles make a variety of complex patterns.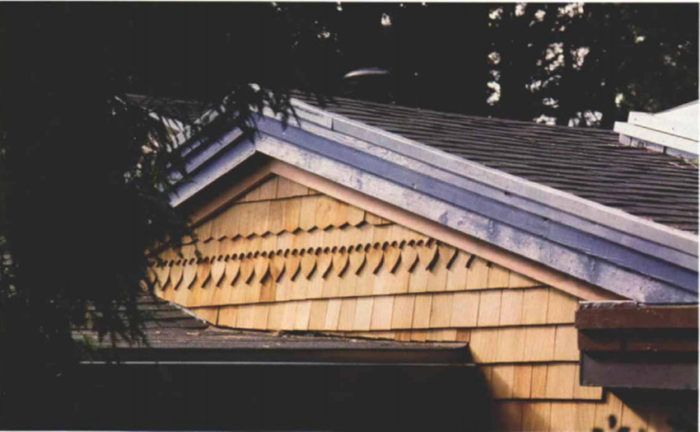 In the summer of 1979, I was struggling to finish a house that we already occupied. The time had finally come to think about the exterior, which we had sided hastily two autumns before using textured plywood as both a shear panel and a temporary finish. We had a look in mind — the silver-grey of redwood shingles weathered by the salt air — which was the signature of Manchester, our northern California coastal town. The more I looked at the local houses, the more I noticed fancy shingle work, and I liked its subtle beauty. It didn't take me long to decide to use a decorative pattern in the gable ends of our house. That was to be my incentive — a reward for getting the rest of the walls done. Since then, I've completed a number of decorative shingle projects.
Decorative sidewall work, like roof shingling, can be installed over "skip sheathing" (horizontal 1×4 boards spaced a board's width apart) or solid sheathing, such as planks, plywood or wafer board. No matter what type of substrate you use, it should have a breathable water-resistant membrane under it to allow air circulation behind the shingles. Asphalt-saturated 15-lb. felt is a commonly used membrane material, as are the new air-infiltration barriers, such as Tyvek and Typar. Because local requirements vary, you should check with your building department to find out what membrane materials have local approval. On plywood, the membrane goes on the outside. With skip-sheathing, you need to placethe membrane between the sheathing and the studs.
The first course of shingles is doubled because the gap between shingles must always occur over the body of another shingle. The rule of thumb is that the gap should occur no closer to the edge of the underlying shingle than one-fifth the width of that shingle. Nails (4d or 5d hot-dipped galvanized box) should be placed near the edges of the shingles. No nails should be visible on a finished shingle job.
For more detail and photos, click the View PDF button below.
View PDF