How-To
Header Tricks for Remodelers
Creative responses to unusual specs.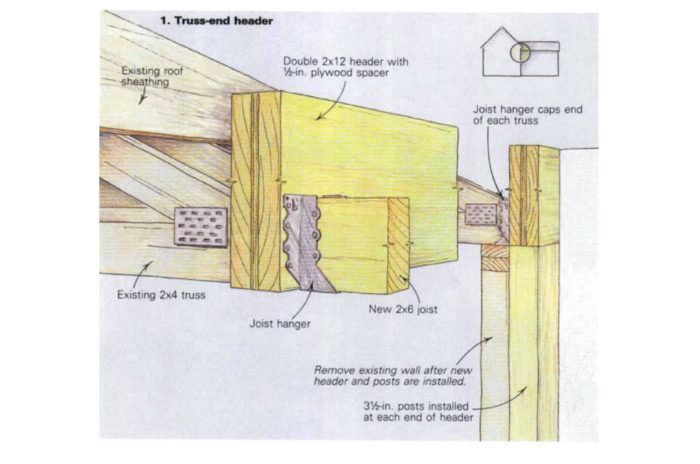 Synopsis: The author offers a number of possible solutions for disguising a new header in a renovated space. These key structural components can even be installed in an attic space above the joists they support. The article includes good pointers for renovators who may encounter this problem.
Between the Scylla of the homeowner's desires and the Charybdis of the house's structural needs, the course of the remodeler is often narrowly charted. When the request is to "take out that wall, but hide the header so it looks like nothing ever happened," the possibilities are usually at least two, but hopefully not more than two million. Given the vagaries of everyone who has ever worked on the house previously, the only way to proceed is to get out the old recipro saw/scalpel and make an incision. Having done so several times, with instructions to "hide that header," I'd like to share some techniques that have worked for myself and my former partner Bill Pappas, now in Minnesota.
Heading off truss ends
I once built a small, gable-roof addition to a house that had pre-engineered roof trusses. The header had to run perpendicular, and adjacent to, the truss ends. I plumb cut the truss ends flush with the outside of the old framing (being careful not to disturb the truss plates) and removed enough plywood sheathing to allow access for nailing. Using a metal-cutting blade in my reciprocating saw, I cut the nails holding the truss to the wall and slid a joist hanger on the end of each truss. After installing posts at either end of the opening, I set the header and nailed the joist hangers to it. All that remained was to secure additional joist hangers to the other side of the new ceiling joists, remove the wall, and have a donut.
One advantage to this method, besides the concealed header, is that the existing wall supports everything until the new header is completely installed. Another advantage is that starting wall removal from the outside of a house leaves everything in place as a barrier between a habitable room and a construction zone. Depending on the situation, several wall components may be reusable, especially the insulation and the studs, if the nails have been cut from the top and bottom plates and the studs carefully twisted away from the drywall.
Balloon-frame header addition
I once worked on a two-story balloon-frame house with 2×6 walls where I needed to add a one-story addition with no visible header over the opening between them.
For more photos, drawings, and details, click the View PDF button below:
View PDF