Design
Sam Maloof's House
A dean of American woodworkers has been tinkering with his house for 40 years.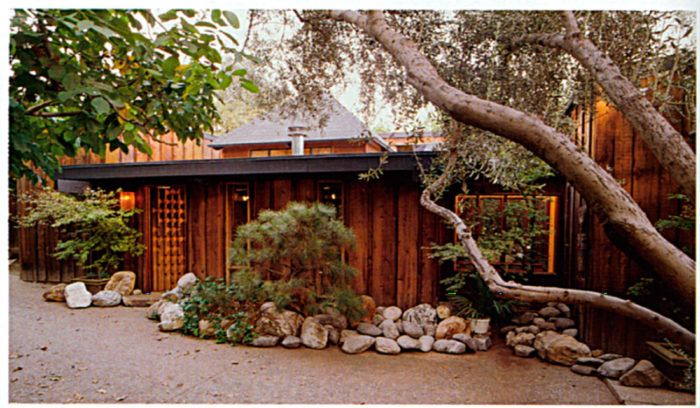 Update: On May 21, 2009, legendary woodworker Sam Maloof died at his home. Visit FineWoodworking.com to view a special collection of articles, interviews, and a listing of the career highlights of this amazing artist.
---
Two hundred yards wide, a strip of undeveloped land stretches like a belt for miles across Alt Loma, California, preventing the proliferating rows of stuccoed townehomes from merging into one vast housing tract. This used to be citrus country the kind of Southern California landscape that beckoned to the nation back in the '20s. Postcards from that era feature deep green trees, heavy with plump oranges, set against a perfect blue sky.
Alta Loma is about 50 miles to the east of Los Angeles, directly in the path of LA's inexorable march toward the Salton Sea. So most of the groves have been bulldozed. An exception lies within that strip of unbuilt land, where a seven acre lemon orchard rings the Maloof house and shop.
Sam Maloof and his wife Alfreda have lived in a house surrounded by the orchard since 1952, when they were finally able to put together a large enough down payment to move out of his mother-in-law's house in nearby Ontario. In the nearly 40 years that the Maloofs have lived there, Sam has gained an international reputation for his furniture. And in his time away from the shop, Maloof fixed up the original cottage, built numerous shop buildings, tore down the cottage, built a new house and expanded it little by little until it now encompasses nearly 7,000 sq. ft. Like many owner/builders, Maloof is driven by a tow fold need: yes, the family required more living space for son Slimen and daughter Marilou, and because the house is also the Maloof Gallery and Office, they needed room for displaying furniture and for keeping track of the business. Just as important, Maloof has restlessly added on to the house as a way to step back from the exacting and sometimes repetitious work making finely wrought furniture. He builds for fun.
Enter through the trees
When they bought their first piece of the orchard in 1952, the Maloofs acquired 1.5 acres, a tiny cottage, a chicken shed and a deep sense of buyer's remorse. The Flimsy cottage had been occupied for years by full-time cigarette smokers, and the cesspool had been overflowing into the chicken shed. Their first task was to seal the rank smelling cottage walls with a couple of layers of fresh paint. Alfreda furnished the cottage with lemon crates draped with embroidered fabrics, and after dealing with the plumbing, Sam turned the chicken shack into his shop. It had a dirt floor and a low ceiling that required him to stoop while working.
As time and their erratic income permitted, the Maloofs made modest but persistent progress toward upgrading the house and the shop. With the help of friends and members of their church, they poured a 2,000 sq. ft. L-shaped slab floor half of it for the shop, and half for what would eventually become the connected living quarters. Until they saved enough money for framing materials, the slab served as an outdoor workshop for assembling furniture.
For more photos and details on this woodworkers house, click the View PDF button below. 
View PDF