Design
A Screened-porch Addition
Simple detailing and inexpensive materials provide a shelter from the swarm.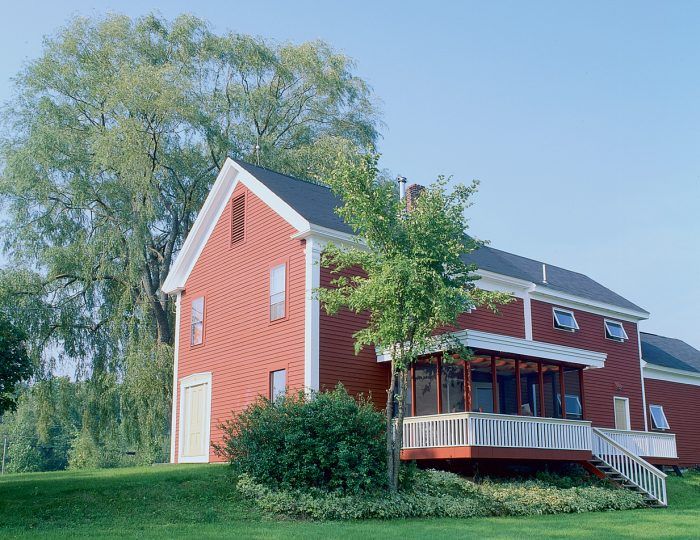 Synopsis: This article details an unusual screened porch design with a nearly flat roof covered in fiber-reinforced plastic panels. A gutter is concealed by an attractive layered fascia.
Screened porches have graced our homes since horse tails were first woven into screens in the mid 1800s. On hot summer evenings, people would sit on the porch, perhaps in a swing, hung from the roof, and pass the time with family, friends and neighbors. But in the middle of this century, when postwar builders were faced with the need to build massive numbers of houses quickly and economically, they built smaller houses on smaller lots. Large outside porches no longer fit the houses or the lots. Lifestyles changed, too: People were spending more of their free time inside and in front of the television.
Recently, however, screened porches have been making a quiet comeback. Has television lost its charm, or are people rediscovering the outdoors? I'm not sure, but for our family, a screened porch was the only way we could enjoy the beauty of our rural New Hampshire site without being assaulted by hordes of pesky insects.
Making plans
The north side of the house off the living room seemed the obvious location for the new porch. Snugged against the house on its shadiest and most private side, the porch could project over the small bank that drops away to the backyard. A 3-ft. wide walkway could run along the back wall of the house, connecting the porch with the backdoor near the kitchen. That way, we'd be able to bring food out onto the porch without having to negotiate steps or pass through the living room. Steps would lead from just outside the porch deck to the lawn.
To economize on materials, I decided to layout the plan on a 3-ft. by 3-ft. grid, yielding a 15-ft. by 9-ft. deck floor — just about right for barbecue equipment, a small table and a few chairs. An existing window and the wall section below it would be cut out of the living-room wall to provide a passageway to the porch from indoors. A screen door would link the porch to the stairs and to the deck/walkway.
Getting the deck to float
The bank at the rear of the house drops off about 5 ft. right away. If I built the new porch at the same level as the living-room floor, the open space below the porch would range from 1 ft. to 4 ft. Closing off this space with open, lattice-type skirting would have been tricky, and a solid foundation seemed an even less attractive alternative — I didn't want to stand in the backyard and see a 4-ft. high wall of parged concrete block.
For more photos, drawings, and details, click the View PDF button below:
View PDF