SawStop's Portable Tablesaw is Bigger and Better Than Before
The 10-in. Jobsite Saw PRO has a wider table, a new dust-control port, and a more versatile fence, along with the same reliable safety mechanism included in all SawStop tablesaws.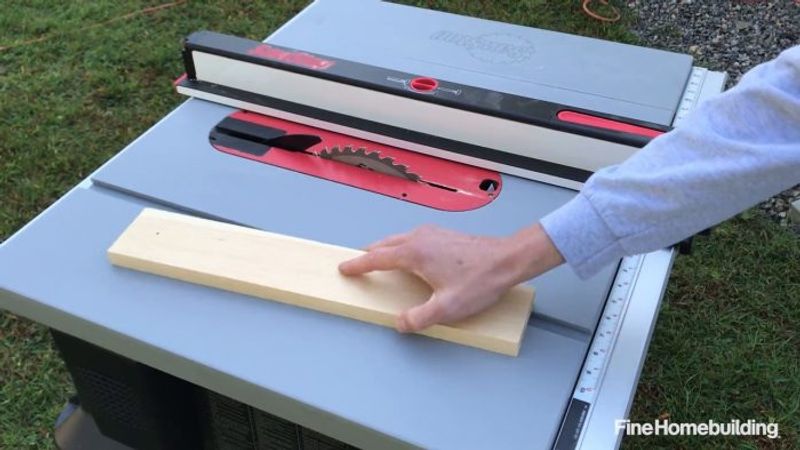 This is SawStop's new Jobsite Saw PRO portable tablesaw. It shares a lot of features and design characteristics with the original one, but it does have some new and improved features. For starters, the table is 2. in. wider at 24-5/8 in. It also has a better fence, which, like the original, has an expanding table to allow for larger rips—but they've added a removable piece that allows you to cut small stock without the fence getting in the way.
It also has a handy storage compartment that holds the crosscut gauge and a new dust-collecting blade guard. There's a port on the guard and a port on the back of the saw—put them together and it's meant to trap almost all the dust.
Unlike most job-site tablesaws, this one takes an 8-in. dado set, so it's more useful if you need to use this saw for joinery. Like the original version, this saw has one of my favorite features: You can take the blade from zero all the way up to 3-3/16 in. with a single turn. It also has a pretty cool bevel adjustment—you squeeze a ring and the trunnion spins easily to tilt the blade, and each click is a degree. If you need to fine-tune an angle, the tilt-adjust knob moves it about a half a degree in either direction. That pretty much covers the features on this saw that are different from the original. Let's set it up and do some cuts.
When you turn the saw on, it has to go through its self-test mode. While it's doing that, I'm going to return the blade angle to zero. I like the rip fence on this saw an awful lot, and I found the gauge to be very accurate. You can see how this low fence is going to give my hand more room when I pass a board through.
I've set up a dado set in the saw and I've got a piece of AC plywood, so let's try putting a 3/4-in. groove in it. I've set the blade about 1/4-in. deep and am ready to rip. You can see now that I've cut my dado that it does a nice job: uniform depth, nice straight sides, no tearout at all. I think that's because of the tight-fitting dado throat plate—you raise the blade and it's exactly the size as the width you're working with. Of course that only works one time if you need to set the dado for a different width and depth, but if precision was an issue, you could just get a new throat plate next time you need a dado.
Given the size, great features, and its exceptional precision, for a job-site saw this is easily the best portable you can take to a construction site. The main downside is it costs $1400—but that can be tempered with the fact that if you cut off your finger, that's gonna cost a lot more than fourteen hundred dollars to get it put back on. It is also very heavy, so to get it into the back of your truck will probably take two people. You might be able to muscle it up in there, but at more than 100 lb., you might risk injuring your back. But if you want the best job-site saw there is, this is it.
You can buy the SawStop Jobsite Saw PRO on Amazon, where it's listed as $100 more than other online vendors—but that's presumably because they roll the shipping cost in to the price (other retailers charge $100 shipping).
Specs
Model: SawStop 10-in. Jobsite Saw PRO
Motor: 15A/1.5HP/4000RPM (4-hp peak)
Blade: 10-in. diameter (8-in. diameter, 13/16-in.-wide dado)
Weight: 113 lb. (with cart)
Table: 31-1/40 in. wide by 24-5/8 in. deep (43-3/8 in. wide when extended)