How-To
Designing and Building Leak-Free Sloped Glazing
Error-free projects demand careful detailing.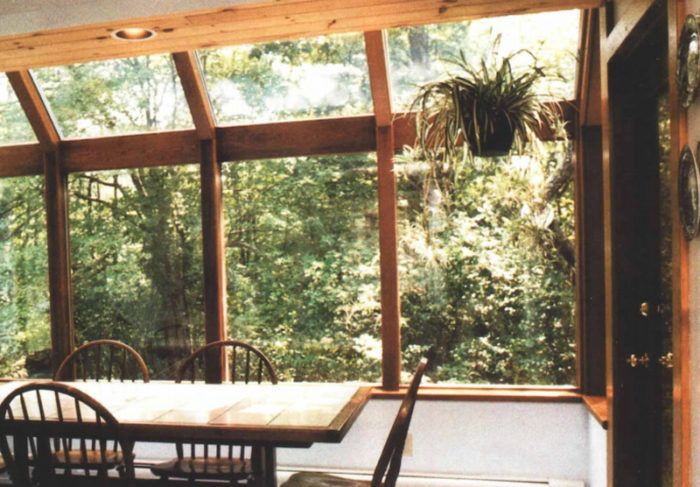 Synopsis: Skylights and sloped windows present a variety of construction challenges. This is a guide to choosing the right materials and construction techniques to ensure the windows won't leak. The author offers advice on sealants, trim, base plates, glass, and wood framing.
Water has an uncanny ability to work its way into the most unexpected places, while the sun can quickly drive all life from an improperly designed sunroom. That's why sloped-glazing units—such as those in sun-rooms, conservatories and large skylights—are among the most complex parts of the building envelope. They're also among the hardest to build correctly.
But with the right materials, careful attention to detail and a sense of how water behaves, well-functioning skylights and sun rooms are well within reach of most knowledgeable builders. Building a high-quality unit isn't cheap, but it will cost less over the long haul than endless callbacks or having to replace an entire structure later on. I tell sunroom clients that, while I can build a conventional small addition for $100 to $120 per square foot, they should plan to spend at least $160 per square foot for a comfortable, well-built sunroom with overhead glass.
Years of trial, error and refinement have passed since I worked on my first sloped-glazing project in 1974. I've learned that the secret to controlling water problems is a dry glazing system that depends not on caulks or sealants, but on gravity and physics. Before going into the details of the system, I'll review some general principles that apply to all wood-frame sloped glazing.
Custom or manufactured?
We custom-build many of our sloped-glazing units on site or in our shop. But why custom-build when there are plenty of manufactured products on the market? Part of the answer is that some glazing systems available to custom builders are superior to those found in most manufactured units (I can't understand why manufacturers have been so slow to use them). Although we do install some manufactured systems, we only work with companies that will customize their units to our specifications and with units on which we can install our preferred glazing system. To save time in the field and enhance quality control, we also pre-glaze some skylights in our shop, truck them to the site and hoist them into place with a crane. Most manufactured systems are designed to be site-assembled; thus, they aren't engineered to withstand the added stresses of transport and hoisting.
The other part of the answer concerns design. Architects and clients can be quite creative in their designs (for example, we recently completed an African mahogany pyramid skylight with heat-mirror glass), but there are limits as to how far manufacturers will go to customize their products. So far, we haven't found a manufacturer that meets all of our demands for design and detailing.
On architect-designed projects, we try to get involved early in the design process. By sharing our expertise, we can help specify the framing materials, glass and sealants. We also suggest details that will expedite the construction process and save the client money. Our goal is a durable, efficient, cost-effective structure that meets the architect's and the client's design goals. Offering such help has gotten us specified into projects without competition.
For more photos and information, click the View PDF button below. 
View PDF