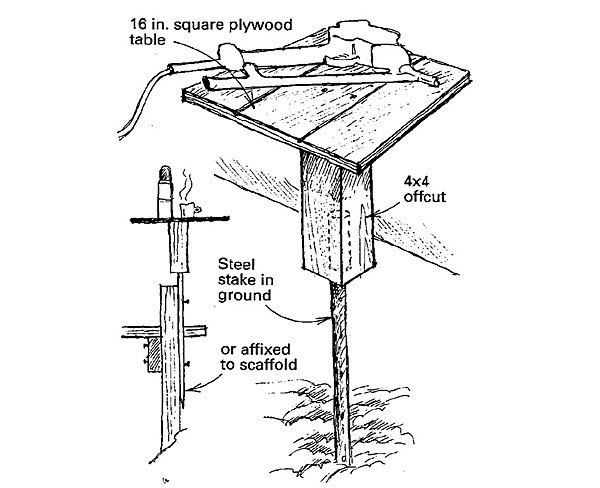 At the end of a long day, all the typical bending and stooping that it takes to put a tool down and pick it back up can take their toll. On a recent project I solved this ageless dilemma with a one-legged table for my nail gun and fasteners (see drawing).
I began making this shelf with a 4×4 offcut. I drilled a 3/4-in. hole in one end, 6 in. deep. To the other end I screwed a 16-in. square piece of textured plywood siding such as T111 (tools slip less on the rough surface). Then I simply pounded a foundation stake into the ground wherever I needed my little table and slipped the 4×4 over the stake. It's held by only one post, so the table is easy to set up on uneven terrain.
By using a longer 4×4, or by attaching the foundation stake to scaffolding, this handy little table rises ever higher to the occasion. And by attaching another square of plywood to the drilled end of the 4×4 for a base, I can put the table to use inside.
Stephen E. House, Grass Valley, CA
Edited and Illustrated by Charles Miller
From Fine Homebuilding #79