Tools & Materials
Ladders
How to choose them, how to use them.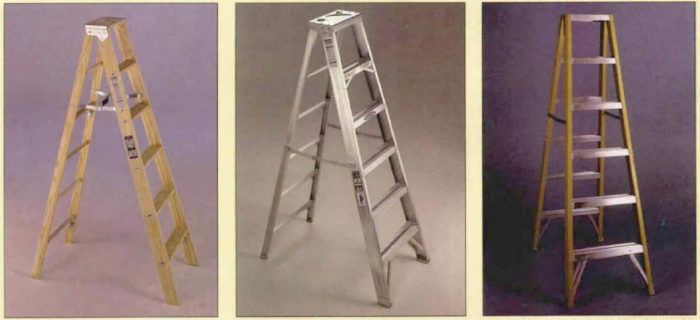 Synopsis: A survey of extension, step, and specialty ladders with a discussion of the different materials they are made from, what sizes they come in, and how they are rated for weight. A sidebar lists sources of information on ladder safety.
The superstition that claims it is bad luck to walk under a ladder has nothing to do with the threat of getting bonked on the head by a falling paintbrush. Rather, it stems from the fact that a ladder leaning against a wall forms a triangle, which to many ancient cultures symbolized a sacred trinity of gods. Mortals who walked beneath a ladder were considered guilty of violating a sanctified space. But it's probably more dangerous to climb some of my ladders than it is to walk under them.
My ladder collection includes a perilous group of rickety, old, wood stepladders with splintered rails, half-missing steps and broken paint trays, an aluminum combination step-extension ladder with a bent foot (I ran over it), and a 40-year-old wood extension ladder with round rungs that make my feet hurt. When I bought a new 20-ft. aluminum extension ladder last year, I had no idea what type it was (the type of ladder — IA, I, II or III — designates the recommended carrying capacity of a ladder). Now I know better.
While researching this article I discovered that there are sturdy, cleverly designed ladders built for just about every home-building job you can imagine, from installing siding to painting stairwells. And these ladders are fortified by an impressive assortment of easy-to-install accessories that make them safer, more versatile and easier to use than their predecessors.
Torture tests
There's an easy way to verify that a new ladder has the integrity you're looking for: Check the labels on it to make sure it complies with all applicable ANSI (American National Standards Institute) and OSHA (Occupational Safety and Health Administration) standards.
Compliance with ANSI standards is voluntary, giving manufacturers sole responsibility for product testing and quality control. OSHA standards, however, are federal laws written to protect construction workers and mandate that ladders used on construction sites in the United States be built in compliance with ANSI standards.
ANSI tests subject ladders to a slew of load, torque, deflection and slip tests. Ladders get overloaded, dropped, twisted, dragged and bent to make sure they're strong and stable. Fiberglass ladder rails get boiled, baked and weathered. Stepladder bucket shelves have to support a distributed load of 100 lb. for one minute with the ladder set in the open position and the spreaders locked (spreaders are the hinged metal brackets that hold the front and back rails apart). Even applied labels get dunked in water, scratched and baked to make sure they won't fall off.
For more photos and details, click the View PDF button below:
View PDF