How-To
Venting the Kitchen
To expel kitchen moisture and grease efficiently, select an appropriate exhaust system and make the duct run short and straight.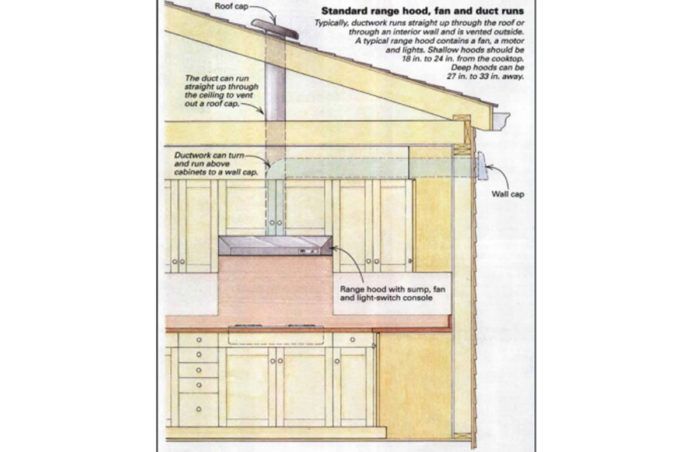 Synopsis: This article discusses options for kitchen ventilation systems, covering standard range hoods and downdraft designs. A sidebar discusses how elbows and other fittings affect the flow of air.
My family once lived in a house in Buffalo, New York, that had no kitchen exhaust system. It wasn't much of a problem in summer. A stiff breeze off Lake Erie whisked cooking odors, heat and steam out the window. But in winter, when cooking made the house smell like a crowded apartment building, we cranked open foggy kitchen windows and let the arctic winds draw the odors — and the heat — outside.
If you've ever lived without kitchen ventilation, having it may seem like a luxury. Kitchen exhaust systems go a long way toward improving air quality throughout a house, however. They suck out odors and heat and get rid of the grease and moisture generated by cooking. They also remove noxious by-products of combustion from natural-gas ranges and some types of indoor grilling. Exhaust systems are invaluable in cooking accidents, too.
There are two types of kitchen ventilation: intermittent and continuous. Range hoods and downdraft ventilators — switched on as needed — are examples of intermittent systems. These types of units move a large amount of kitchen air relative to the second type of system, which is a continuously running whole-house exhaust fan, or multipoint system, sometimes referred to as background ventilation. (A multipoint system is not a heat-recovery ventilator, although multipoint HRVs are available.) A multipoint system typically has a kitchen intake and often contains a device that lets the user turn up its exhaust capabilities during cooking.
There's lively debate among indoor-air-quality specialists and manufacturers about the amount of ventilation needed in the kitchen and about the best-working systems. Some professionals prefer intermittent fans because of their location at the range, which is the origin of the problem. But because dishwashers, garbage cans, refrigerators, coffee makers and other appliances generate unpleasant smells, vapors and excess heat, some professionals favor continuous systems. A third group advocates both intermittent and continuous exhaust fans, especially for installation in tightly built homes.
Oddly enough, no state or national code that I know of requires a downdraft ventilator or an exhaust hood in the kitchen. Only two states, Washington and Minnesota, require mechanical ventilation in the house, although neither specifically references the kitchen. The American Society of Heating, Refrigerating and Air-Conditioning Engineers' (ASHRAE) Standard 62, which provides ventilation guidelines referenced by state and local codes, says an operable kitchen window is plenty of ventilation. If there is no window, however, ASHRAE 62 offers minimal mechanical-exhaust guidelines.
This article focuses on range-hood and downdraft exhaust fans because these fans are the most common forms of kitchen ventilation. Before heading down to the local home center with your checkbook, however, it's first important to understand how these fans work, what their performance characteristics are and how to install them without diminishing performance.
For more photos, drawings, and details, click the View PDF button below:
View PDF