How-To
Making Trim From MDF
Medium-density fiberboard mills and paints well whether you're creating straight runs or curves.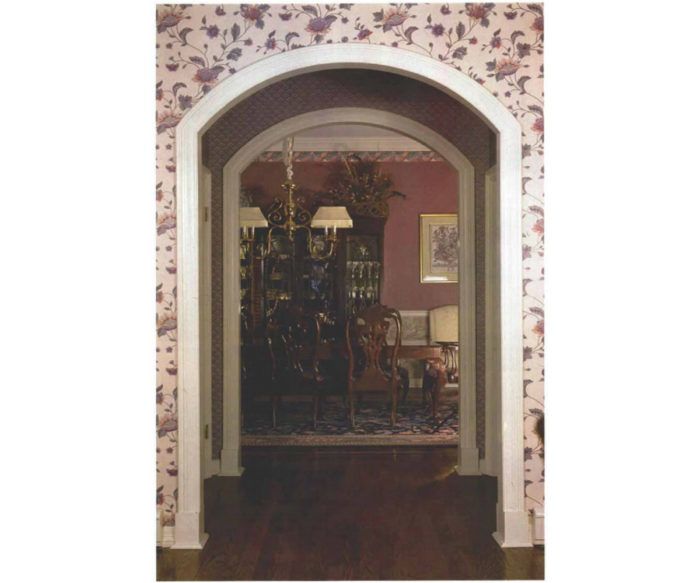 Synopsis: A guide to using medium density fiberboard (MDF) as an alternative to conventional lumber for trim, with particular attention to laying out and milling curved jambs and casing for an arched passageway.
I had just finished renovating a library when the clients asked about the passageways in the main circulation area of their home. The passageways had drywall corners and no trim, and they were large 36 in. wide by 7 ft. high. They seemed to call out for more definition, but not with typical 2 1/2-in. ranch or colonial casings. They wanted something with a wide profile that would accentuate the passageways and stand up to the wallpaper pattern surrounding them. And there was another wrinkle: The passageways were arched. So if I trimmed these openings, the trim would have to be custom-made.
MDF is the choice for paint-grade work
With eight arched openings to trim, I had to figure out how to make custom casings efficiently and cost-effectively. It seems as though solid wood's high cost, diminished quality and scarceness make this effort more and more difficult.
My clients wanted to paint the casings, so I chose medium-density fiberboard (MDF) for the casings. MDF is a composition panel made of resin-bonded wood fibers. About as dense as soft maple, MDF mills and paints well and would allow me to cut the curved casings from sheet stock. This option meant a big savings in labor costs for my clients. The alternative method of making curved casings is to glue segments of solid wood end to end and to shape the assembly into a curve. MDF's cost, about $27 for a 4×8 sheet of material, and its ready availability make it a good alternative to solid lumber.
A molder/planer shapes the profile
To turn flat stock into profiled moldings, I use a Williams & Hussey molder/planer. This machine, which costs about $1,600 from the factory, is an open-sided planer that also profiles panels and casings. The cutting is done with a pair of knives bolted on a spinning arbor.
The open-sided design means there's no limit to the width of the material you can feed into the machine. The knives, however, can be no longer than 7 in., so you're limited to planning or profiling a 7-in. swath at a time. On the other hand, you can do straight or curved trim work with the same knife setup.
Among the advantages of using the Williams & Hussey for milling casings out of MDF is the dust collection capability. It's simple to fit a vacuum intake over the tool's chip deflector and catch nearly all of the dust. Bulletproof dust collection is a requirement because milling MDF is like an explosion in a pillow factory, only a lot more insidious because the resin in MDF is urea formaldehyde, a toxic compound.
My molder/planer has power infeed and outfeed rollers that send the stock through the machine steadily for uniform results. Because of snipe — the different depth of cut that occurs when stock is held by only one, not both, feed rollers — I make the runs of trim longer than necessary, and then cut off the sniped ends.
For more photos, drawings, and details, click the View PDF button below:
View PDF