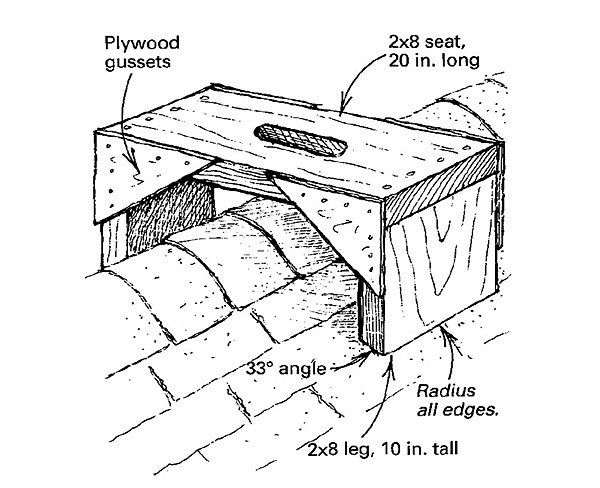 Recently, much of my renovation work has included retrofit roof vents, both at soffit and at ridge. When the roof slope is greater than 5-in-12, I have a hard time keeping my ankles locked while I tear off the old ridge-cap shingles and make the roof-sheathing cuts. Clearly, I needed something to make it easier to work on such a roof. The ridge stool was the answer for me.
As shown in the drawing, the legs of the stool are beveled to bear on opposite sides of the ridge. Sitting on the stool, I'm directly over my work. Tearoff is much easier, and because the ridge vent fits under the stool, installation is a breeze. By the way, I planed off any sharp corners or edges along the stool legs that might damage the shingles. To date, I've had no problems cutting into the existing shingles.
The stool provides not only a comfortable place to sit but also doubles as a stable tool platform. Pouches can also be added to the sides to support fasteners and a hammer or two.
James M. Kimbrough, Oxford, OH