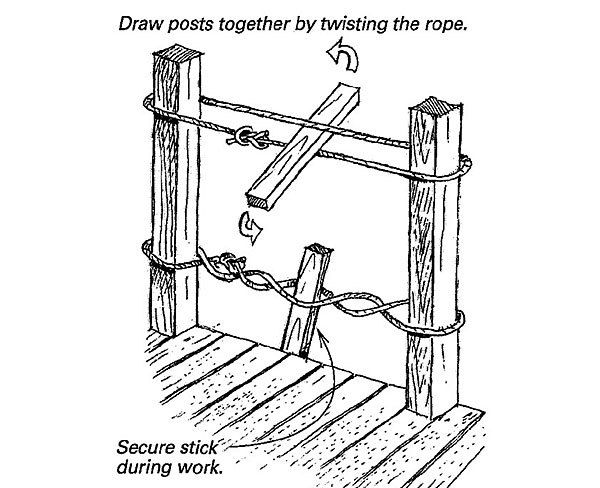 When I worked at a boat yard, we used a technique called the Spanish windlass for drawing two objects together. It's especially useful when the objects are some distance apart, such as a pair of posts on a deck. As shown in the drawing, this simple technique requires only a rope and a stick. The knot isn't important — even a granny knot will do.
Begin by making a loop of rope that is just tight enough to keep it from slipping down the posts. Now slip a stick through the loop somewhere near the midpoint between the posts, and start twisting. As the two sides of the loop twist together, the span of the rope's loop shortens, and the posts are drawn together.
When the tension is sufficient, slide the stick almost all the way through the loop and let its long end catch on the deck to hold it steady. Now your posts are held in place while you install the railing, brackets, braces or whatever. One note of caution: If you plan to put a lot of tension on the loop, use a beefy stick such as a 2×4. I've seen ordinary 1x stock snap like a toothpick. And don't let go of that stick accidentally. It'll spin around like a propeller, and it takes no prisoners.
You can apply this technique to many tasks. For example, I've seen two Spanish windlasses used as comer clamps to draw large rectangular frames together.
Roe A. Osborn, Woodbury, CT