Clean Edges Where Paint Meets Wood
A clean edge without a master's hand.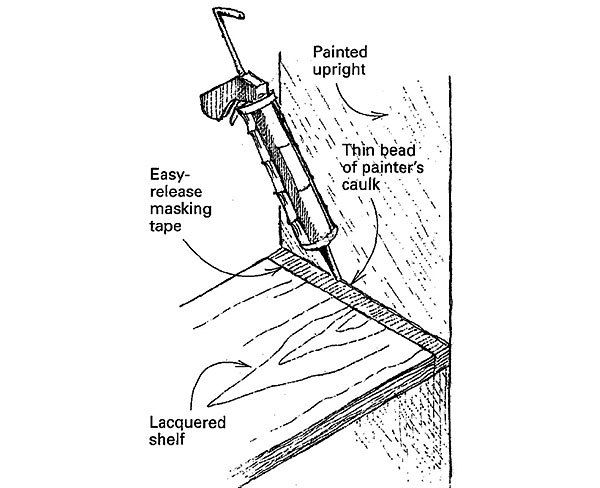 When a painted surface butts up to a part of a cabinet, stairs or wood trim that is to remain unpainted, frustration lurks. The problem is that masking tape alone isn't enough to block the paint completely. It flows into the minute irregularities under the tape's edge, leaving a fuzzy line when the tape is peeled away. Some painters are steady and skilled enough to do this job freehand, but for most of us, the task is rarely successful.
We recently solved this problem in an entertainment-center project that my company built. As shown in the drawing, the cabinetry has painted uprights and lacquered shelves. To get the clean line we were looking for, we first applied a strip of easy-release masking tape (like the blue stuff from 3M) to the shelf. Then we ran a thin bead of latex painter's caulk to the intersection and wiped it with a moistened finger a couple of times to remove virtually all the caulk. We weren't concerned about leaving a bit of caulk on the parts to be painted, only only on sealing the edge of the tape. After we were done painting the uprights, we carefully removed the tape while the caulk and paint were still wet. Result: A clean paint line without a master's hand.
A word of caution: If the caulk and the paint are dry by the time you remove the masking tape, run a sharp utility knife down the intersection first.
—Chuck Green, Ashland, MA
Edited and illustrated by Charles Miller
From Fine Homebuilding #114