How-To
Making Plywood Box Beams
Glue, staples and a little engineering turn sheets of plywood into trusses and columns.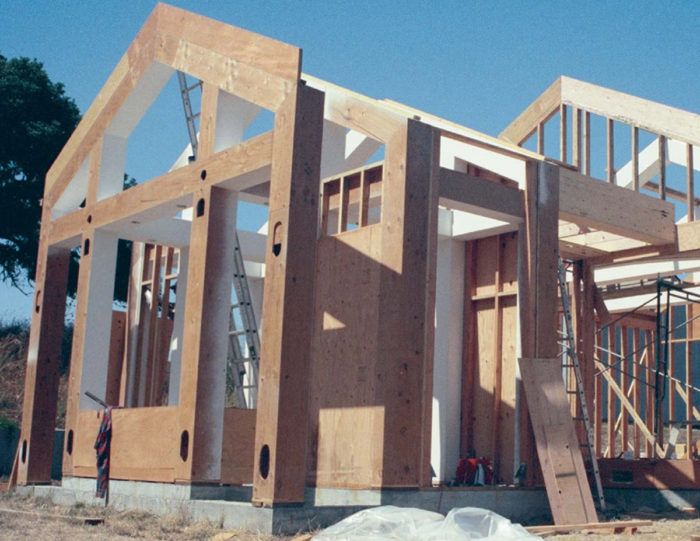 Synopsis: This article describes the author's innovative technique for building hollow 12-in. square plywood box beams, an alternative to solid timber construction, and how he used them as the basis for making trusses, columns, and beams in the construction of a home.
Here's a paradox for you: Just as the last great stands of old-growth timber disappear, the venerable craft of timber framing enters a renaissance. It makes a kind of perverse sense. A lot of people are tired of unrelieved gypboard boxes. They want to see the structure of their buildings because there is an honest, I-feel-sheltered atmosphere in a house when you can see big beams, posts and trusses that are holding up the roof.
When I built my own house, I fully expected to use heavy timbers to make the ceiling trusses. A session with a calculator, however, sent me off in another direction. I quickly learned that good-quality 10x10s and 12x12s were very costly, and that the custom metal hardware required to meet California's seismic standards would have upped the ante even further.
I eventually built that house of steel components. But another construction technique was on my mind at the same time, and I got to try it out a few years later when I built a contemporary spec house on a neighboring parcel of land in Nicasio, California. My colleagues and I called this project the Meadow House. During the construction of the Meadow House, I used a technique that I call the hollow box beam to create a signature look that emphasized structure.
Lessons adapted from the exhibit business
The shapes of the trusses, beams and columns are visible everywhere in the house, throughout the foyer, master bedroom, great room, porch and kitchen. Because of their predominance and structural duties, these elements required a practical and cost-effective building method. To make them, I modified some details that I had learned making exhibits for trade shows.
In the exhibit industry, structural elements are prefabricated in shops and then shipped to convention facilities across the country, where they are assembled to create larger structures. With tight deadlines, budgets and shipping restrictions, the exhibit components have to be lightweight, strong and durable, and they must be made from readily available materials. Hollow beams and columns fill this bill exactly. In essence, the Meadow House presented the same challenge as an exhibit project: Create an impressive image through structure while being practical with the use of materials.
For more photos, illustrations, and details, click the View PDF button below:
View PDF