How-To
Choosing and Installing a Bathroom-Vent Fan
Pick a fan that's quiet and powerful, and keep the duct short.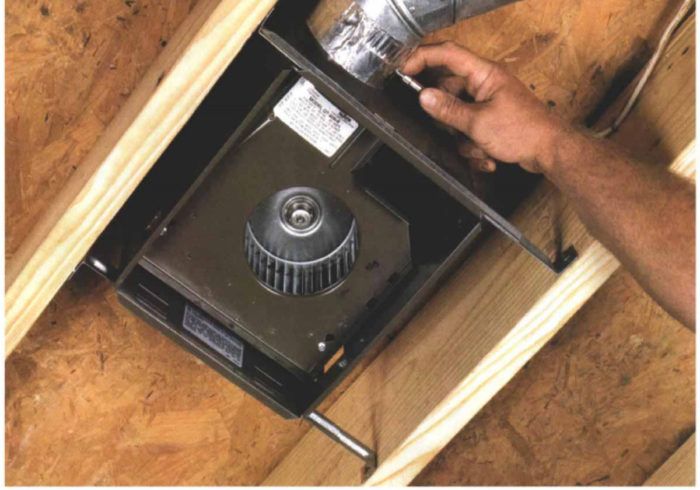 Synopsis: Bathroom vents remove moisture and help prevent peeling paint and wallpaper, mold, and rot. The author explains how to choose a fan and provides useful details on various options for wiring it. A sidebar shows how to run duct.
I once received a call from a homeowner complaining that his bathroom fan was not working. Although I responded within a few hours, I was too late to save the fan and far too late to save the bathroom. The room was victim to moisture damage from humid air: The wallpaper had begun to peel, and the drywall was blackened around the shower. It was obvious this fan had not worked in a long time. As the homeowner witnessed, moisture-laden air over time can cause a lot of damage in a bathroom, such as corroded light fixtures, rotted wood, and peeling wallpaper and paint. Moisture can also hasten the spread of unhealthful mold and mildew. A properly operating fan removes moisture-laden air from the bathroom and replaces it with dry air from outside the room.
Most building codes require fans in bathrooms that have no windows. But fans should be installed in all bathrooms, window or not, especially in cold climates (it's ludicrous to think a person would open a window to ventilate the room when it's freezing outside). There are many types of bathroom fans out there, and the choice may seem simple: choosing the unit with the best price. But remember that the best price is not always the cheapest price—you get what you pay for.
Choose a fan that moves a sufficient amount of air
First consider the size of the bathroom, and then choose a fan large enough to move air adequately for that size room. The volume of air the fan moves is measured in cubic feet per minute (cfm) and will be listed on the unit. To choose the fan with the correct cfm rating for the room size, first figure the volume of air in the bathroom and then divide that number by 7.5, per guidelines of the Home Ventilation Institute (a division of the Air Movement and Control Association). Assuming 8-ft. ceilings, you typically would choose a 50-cfm unit for a small bathroom (around 5 ft. by 8 ft.), an 80-cfm unit for a midsize bathroom (around 8 ft. by 8 ft.) and a 110-cfm unit for a large bathroom (around 10 ft. by 10 ft.). For larger bathrooms, companies such as Panasonic make 190-cfm fans.
Quiet fans are better fans
In general, the higher the cfm rating a fan has, the more noise it makes. But the noise doesn't have to shake the floor. You should choose the quietest unit for the amount of air that must be moved. A fan's noise is measured in sones, and each unit should have this measurement clearly labeled on the box or in the product literature. A noisy fan is one that's rated above 3 sones. You'll be able to hear a fan this loud even while the shower is running (it will sound like a helicopter landing on your roof). A quiet fan, on the other hand, measures around 2 sones to 3 sones. An ultraquiet fan will be 1 sone or less.
For more photos, drawings, and details, click the View PDF button below:
View PDF