Design
Building for Affordability and Energy Efficiency
Walls of aerated concrete block, a passive-solar design and a truss roof all make it possible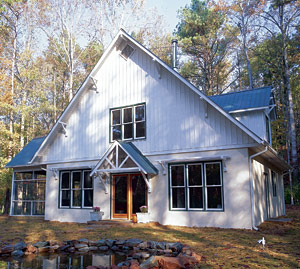 When we met them, Martha and Kent Pearson were nearly resigned to building a conventional house on their beautiful 10-acre site outside Chapel Hill, North Carolina. A conventional house is just what they were hoping to avoid, but four other builders had just about convinced them an energy-efficient house with a low environmental impact would cost too much. It didn't.
We designed and built an 1,800-sq. ft. house, plus a screened porch, for $165,000, well below local costs for conventional custom homes in our area. Wherever possible, the house is constructed of environmentally sensitive materials, meaning they are nonpolluting or low in toxicity and may be recycled. Inexpensive to light, heat and cool, the house should last for well over 100 years with only minimal maintenance. The Pearsons got what they really wanted: a "green" house they could afford.
The story-and-a-half, three-bedroom cottage combines a number of innovative elements. It is a passive-solar structure. A radiant-heating system warms the concrete floor. We used an exterior-wall system made of autoclaved aerated concrete (AAC), a European product recently introduced in the United States (see Hebel block). This material outperforms fiberglass insulation rated at R-30 in a wall that is 8 in. thick. All these features cost less or no more than their conventional counterparts, but they save a lot of money subsequently. Other features we used to bring down the Pearsons' initial building costs were a simple footprint and a truss roof. We also designed with homeowner labor in mind. The Pearsons eagerly went to work, saving themselves about $6,000 with their efforts.
Floor plan
Radiant-floor heat and first-story walls of an aerated concrete block help to make this house energy efficient. A square footprint simplified construction and helped to reduce building costs.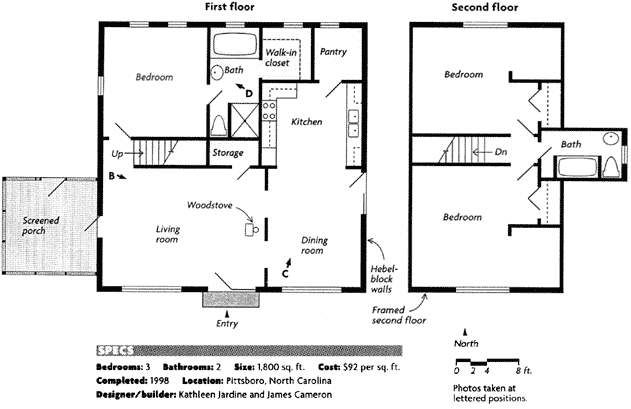 Building in passive-solar technology with a traditional look
The Pearsons had done their homework before they arrived at our first design meeting. They knew what passive-solar houses were, but they were uninspired by the modernist style of the examples they had seen. They knew that passive-solar houses are sunny and warm in winter, and cool and shady in summer. They knew the design fundamentals: siting for solar gain; using large, south-facing windows with summer shading; and taking advantage of thermal mass, usually the floor, to moderate temperature extremes.
The Pearsons had read that houses with a passive-solar design are inexpensive to heat and cool, so they were interested in the utility records that another of our clients had kept on her AAC house. We could show them bills of $185 a year for electricity and $360 for LP gas. With such low bills, the Pearsons were convinced they did not need to add solar panels for heating water to their own house — at least not initially. They did get a $1,500 tax credit from North Carolina for incorporating passive-solar design strategies, and if they add the panels later on, they will get another credit.
They liked the romantic look of this client's cottage as much as they liked her utility bill, so we designed a similar house for them. We think that passive-solar technology can probably be adapted to any architectural style. The Pearsons' house is romantic, classical and simple, with spaces that are bright and cheerful. It is as archetypal as a child's drawing.
A simple footprint and a truss roof keep building costs down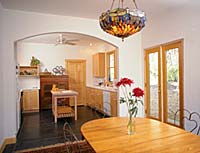 With all due apologies to R. Buckminster Fuller, a cube has the most interior space for the least exterior surface of any rectilinear form. So the Pearsons' house is square and cubish. That kept structural costs to a minimum (no complicated jogs, wings and other appendages that add to building time and materials). A simple footprint also means a simple roof. The cost savings from these structural decisions allowed money to be diverted to otherwise unaffordable elements. These things included the colored galvanized-steel roof with its 100-year life expectancy, good-quality windows, No. 1 pine tongue-and-groove soffits and porch ceilings, cedar fascias and lookouts, 9-ft. 6-in. ceilings, arched doorways, six-panel white-pine doors with porcelain knobs and a nice kitchen and master bath. All of this made a great trade for a complex footprint and roof.
We like truss roofs for a lot of reasons, starting with their cost. Simple truss roofs are substantially less expensive than stick-built ones; they save framing time and can save painting time. The Pearsons' roof trusses incorporate an engineered second-floor space with 2×6 gable ends. We finished the gable ends on the ground with cedar battens nailed over 5/8-in. structural T-111 plywood. This technique allowed Kent Pearson to stain the gable ends before a boom truck lifted them and the rest of the trusses into a nearly instant roof and second floor. The trusses were skip-sheathed, and the soffits, barge rafters and lookouts were prestained and installed before the steel roof was screwed on.
Special cement block makes a highly insulated wall system
The Pearsons' house was the fourth in which we had used an AAC wall system. Although this material is relatively new to the United States, it has a 75-year track record in Germany, and it is also widely used around the world. We first heard of it from a friend who built with it on an Israeli kibbutz. Not long afterward, we read that the German company Hebel had opened a plant in Georgia to produce AAC block (800-994-3235). We immediately placed an order with them.
We had to learn to build with AAC ourselves because we could not find regular masons who would (see Hebel block for a summary of the building process). We built our first AAC house with two days of help from a stonemason and his assistant, plus a Hebel technician. At the time, the company provided the technician's services for free. Hebel no longer offers that service, but the fee would be worth every penny. Don't bank on the instructions that come with the Hebel block — at the time we used it, at least, the technical manual was incomplete.
We have yet to find a masonry crew that really likes this material. The learning curve in working with any new product can be formidable, especially when one is faced with 30,000 lb. of it. But AAC's many wonderful qualities outweigh its unfamiliarity. It appears to be more or less fireproof, noiseproof, waterproof and hurricaneproof by comparison with conventional wood construction. It needs no chemical treatment for termites. It has a high insulation performance, and it is long-lasting, low-maintenance and beautiful when stuccoed and plastered.
The masons' caution in working with an unfamiliar material is consistent with the larger building industry's. It's risky for both individuals in the trades and in the public to experiment with unknowns. Some bad ideas have swept the country as building trends and fads. But the pressure to develop energy-efficient and affordable houses is so powerful that designer/builders will keep trying new ideas. We thought the Pearson house had enough good ideas that we're finishing a smaller version of it for ourselves.
Kathleen Jardine and James Cameron are a husband-and-wife team whose company, James Cameron Build/Design, is in Pittsboro, North Carolina. Photos: Scott Gibson