How-To
Ten Common Plumbing Mistakes
A building inspector reviews the most frequent violations of the plumbing code.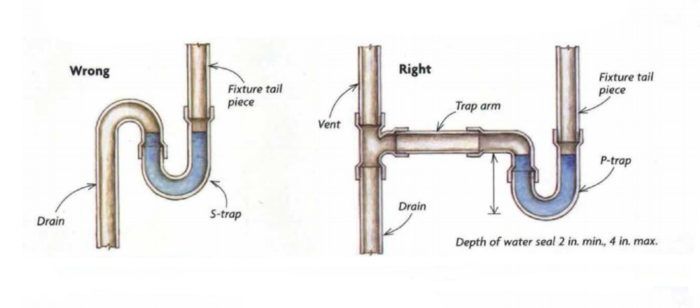 Synopsis: From unvented traps to inadequate drain slopes, the author picks his top 10 in the world of plumbing done badly in this illustrated guide. It's a helpful checklist that will save trouble down the road.
There is a very old joke that claims the plumbers' rule book has just two entries: The first rule is that you-know-what flows downhill; the second rule is don't bite your nails.
The lowly plumber has been the butt of jokes for years, so it's easy to overlook how important a plumber's job is. Call it excrement, night soil, poop or doodoo if you prefer, but modern civilization would become extremely uncivil if the stuff ever stopped flowing downhill.
The actual rule book that plumbers have to follow is a complicated document known as the plumbing code. The book is so unwieldy, in fact, that veterans and newcomers alike often stumble over its vagaries and nuances. Soon after I became a building inspector in Oakland, California, I found myself writing the same correction notices day after day and getting the same reactions from recipients: "Is this rule something new?" "But I've been doing it like this for years." "Where does it say that?"
Reciting facts, figures and code numbers from memory is not one of my strong points, so I started making my own crib sheets for these frequent code violations. Eventually, I'd make multiple copies and pass them out to contractors and homeowners before they got themselves into trouble. The following is my top-ten list of plumbing-code violations.
As you read on, please note: Codes vary. Today, there are essentially two plumbing codes, and the one that affects you depends on where you live. The International Plumbing Code (IPC) is a new organization vying with the older, more widely recognized Uniform Plumbing Code (UPC). Check with your local building department to see which code it has adopted and whether any local modifications have been made.
Common code violation 1: Inadequate drain slope
Although the codes may allow as little as 1/16 in. per ft. of slope in some cases, the ideal slope for any drain is 1/4  in. per ft. This much slope allows the waste-bearing water to move slowly enough to carry solids along with the flow but swiftly enough to scour the side walls of the drain pipes. Over sloped pipes (greater than 1/2 in. per ft.) are as likely to clog as under sloped ones because the liquids move too fast and leave the solids behind.
Violation 2: Unvented traps
Traps and vents are among the most misunderstood concepts in plumbing. The primary function of both is to maintain a sanitary barrier between living spaces and the sewage system. Without a trap to seal off plumbing fixtures, nasty things such as explosive methane gas and vermin can creep into the house. Without proper venting, water in the trap can be siphoned out, leaving the trap dry and useless.
For more photos and details on common plumbing violations, click the View PDF button below. 
View PDF