How-To
Insulated Concrete Forms
Assembled with regular building skills, ICFs form airtight, insulating concrete walls that finish with standard materials.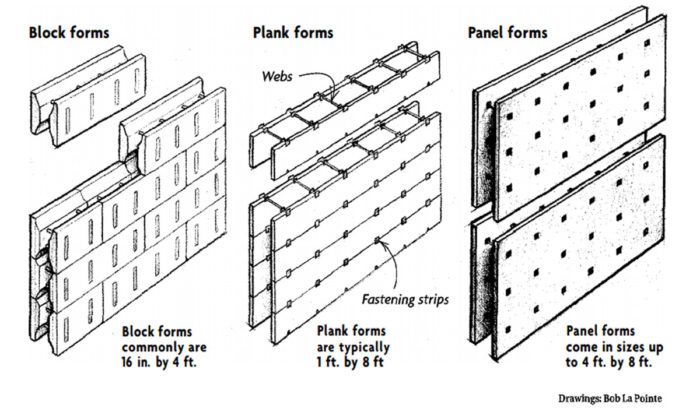 Synopsis: The author explains how he used insulated concrete forms, or ICFs, to form basement walls for his new house. In addition to describing the advantages of these foam and plastic forms, he details the process of setting them in place and filling them with concrete. A short accompanying article describes the main types of ICFs that are available.
On a Saturday morning two summers ago, helped by my wife, Pat, and four usually desk-bound coworkers, I poured the concrete walls for my new home's 28-ft. by 40-ft. basement. Containing the heavy slurry of concrete were insulating concrete forms (ICFs) made of foam and plastic ties.
Setting the forms, braces and rebar took Pat and me about two weeks of part-time work. However, fretting about pouring three truckloads of concrete into forms that resembled a hybrid of take-out coffee cups and Lego blocks cost me a lot of sleep during those weeks. When full, every 5 ft. of those forms would hold 1 cu. yd. of wet concrete and weigh about 2 tons. The potential for the forms to burst, topple over or simply sneak out of plumb was real. All went well, though, and by early afternoon, the crew was sitting in the shade, drinking cold beer and grilling burgers.
I could have hired a concrete contractor and been done with my basement in days, for about the same money. But I wouldn't have gotten the insulated basement that I wanted. If the thermal mass and the air-sealing effects of the concrete are considered, industry sources claim effective R-values that push 40. I don't know if that number will stand scrutiny, but I know that from the foam alone, my basement walls have a respectable R-value of 25.
Also, I poured those basement walls during a building boom. Contractors in my area were scarce. With care, ICF walls can be built by anyone with carpentry and concrete experience, so I avoided the headaches of finding one more contractor.
If I ever build another house, I'll consider taking ICFs all the way to the roof. The cost of ICF walls is somewhat higher than that of frame construction, but this factor is less troublesome in areas where wind and seismic loads are considerable. In these areas, houses built of steel-reinforced concrete — that are well insulated to boot — make sense.
One job does not make me an expert, but it did make me curious. So I spoke with experienced ICF builders from Maine to Florida to Washington. There are over 40 ICF manufacturers, and their systems assemble in an almost-equal variety of ways. I don't have space to explore their proprietary ins and outs. The differences mainly have to do with how the blocks attach to each other, not with how you set windows and doors, or how you brace and fill forms with concrete. Talk to your distributor for brand specifics.
For more photos, drawings, and details, click the View PDF button below:
View PDF