Design
Building a New Cottage to Look Old
Reclaimed materials and exposed wall framing disguise a state-of-the-art structure.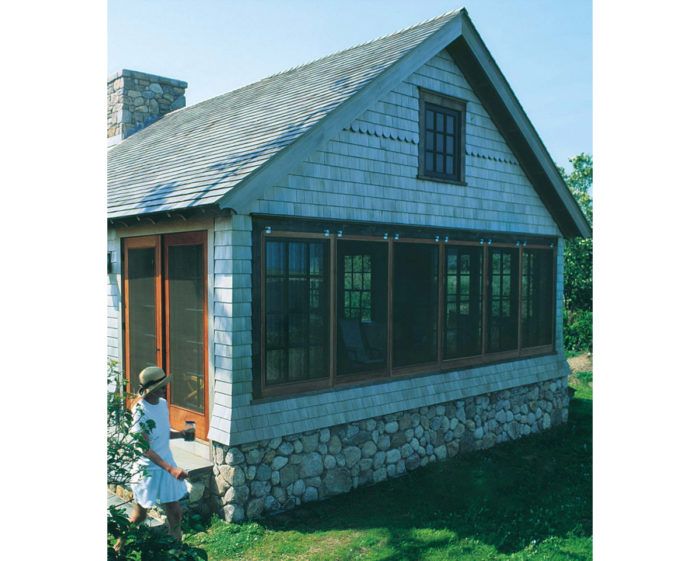 Synopsis: A Nantucket builder describes how he used recycled lumber from a variety of sources, traditional detailing, and modern construction methods to build a comfortable but old-looking cottage that meets strict building codes.
Nantucket venerates its old buildings. Without them, this Massachusetts island would be a far more ordinary place. A prosperous whaling outpost in the years before the Civil War, Nantucket now does a booming tourist trade. Visitors pile off the ferry and amble along cobblestone streets where exquisitely proportioned clapboard and brick buildings house gift shops, galleries. and restaurants. They go to outlying villages and marvel at weather-beaten 18th-century cottages. Old is good.
Given the island's stock of architecturally pristine buildings, I wasn't surprised by the ideas that a friend and neighbor had for his new cottage. He owned a magnificent lot overlooking Sesachacha Pond and the ocean beyond near the village of Quidnet. His plan was to tear down an old fishing shack on the property and replace it with a modestly sized cottage. Although the cottage was to have the feel of a place that had existed for a long time, he said it was to be built with the finest methods and materials.
The owners, working with local architects Lisa Botticelli and Ray Pohl, had produced a design for a one-story, four-room structure that borrowed a number of elements from traditional cottage construction and detailing. Recycled building materials—on floors, in cabinets, and in interior doors—unmistakably said the cottage had been around for a while. New lumber and modern materials would help the cottage to meet current energy codes while making it snug, weathertight, and comfortable.
Exposed rough-sawn framing gives the building an informal feel
Older Nantucket cottages are usually simply built structures with exposed rough-sawn framing. In keeping with that theme, the 21-ft. by 25-ft. living room got rough-sawn framing with no interior wall coverings. We produced full-dimension 2x4s for studs, shoes, and plates, 2x8s for rafters, and 2x10s for ridge poles by ripping high-grade spruce staging planks that we picked with care. We left the factory rough edge toward the room to maintain a consistent texture. To minimize the number of jack studs and cripples, we laid out the living room so that doors and windows fell between the common 16-in. centers of the wall studs.
Wherever possible, we hid fasteners. In framing the walls, we nailed through the faces of plates and shoes into the studs (no toenailing). Rafters were lagged from above where they landed on the top plates and were set into dadoes cut in the ridge and then blind-nailed. The two trusses spanning the living room were built on site from 4×7 beams that had been reclaimed from an old carriage house in Etna, New Hampshire.
To complete the effect, all the exposed wall sheathing was made from reclaimed hemlock barn board from Pennsylvania, which we straightened and ripped to widths of 5 in., 7 in., and 9 in. New framing lumber and old sheathing were blended together with two coats of whitewash (really just a thinned white paint), commonly seen in old Nantucket cottages.
Both the kitchen and the bedroom got the same open, whitewashed ceiling as the living room, but also have finished wood walls. In the bathroom, framing in both walls and ceiling is completely covered.
For more photos and details, click the View PDF button below:
View PDF