How-To
Alternating-Tread Ladder Stairs
Tips for designing and building a space-saving, small staircase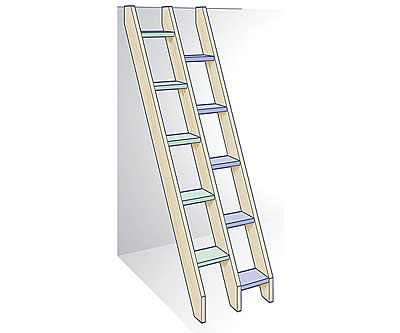 Q: On p. 71 of the 2000 HOUSES issue of Fine Homebuilding (#131), there's a photograph of an alternating-tread, ladder-style stair. Can you tell me how to lay out and build that type of staircase?
Steve Mann, San Luis Obispo, CA
A: Scott Schuttner, author of Basic Stairbuilding, replies: It's exciting to see designers and builders getting creative with stairs. That's true when there is plenty of room for a code-approved stair, where we're seeing more details like floating tread stairs, and in special situations, where something like a spiral staircase or winder stairs can solve problems of limited space. I assume that if you want to build an alternating-tread, ladder-style stair, space is tight in your house. Still, before trying to wrap your head around this alternative stair, make sure you are acquainted with the math of rise and run and basic stringer layout. All stair building starts with the same equations and if you can visualize stringer layout for a simple stair, you can likely figure it out for a more complex stair.
Codes do not require approved stairs to unoccupied areas of the house, such as storage lofts or attics, so if there isn't room for a standard staircase, you can usually get away with putting in a ladder-type stair. The alternating-tread ladder stair is a variation on the ladder-stair theme. By the way, if you'd rather buy one than build one, Lapeyre Stair Inc. (www.lapeyrestair.com) makes metal alternating-tread stairs that are used mainly for commercial applications.
When I'm building a set of ladder stairs, the first thing that I do is to set one of the carriages or stringers (which are left long intentionally) in place and then mark and cut the bottom edge. Alternating-tread ladder stairs have three carriages, so I use the first carriage as a template to cut the bottom angle on the other two carriages. By the way, I consider every run of stairs greater than 45° and less than 75° to be a ladder stair. Beyond 75°, the stair is just a plain ladder.
When laying out regular ladder stairs, I try to make the unit rise somewhere between 9 in. and 12 in. But with an alternating-tread stair, the difference in height between the right and left treads is the unit rise.Using the guidelines of commercially built alternating-tread stairs, I try to get the unit rise between 6-1/2 in. and 9 in. — the steeper the angle, the larger the rise.
Most alternating-tread ladder stairs have the same number of treads on each side, which isn't absolutely necessary, and I suspect it's based more on aesthetics than on construction or comfort. But for the purposes of this answer, let's assume that the stair does have the same number of treads on both sides.
On each side of an alternating-tread ladder stair, every other tread is omitted. So to get the same number of right and left treads, one side has to begin with an omitted tread, and the other side has to end with an omitted tread. Therefore, within the overall rise, there has to be an odd number of unit rises.
Let's make the hypothetical alternating-tread ladder stair at a 60° angle with an overall rise of 79-3/4 in. from finished floor to finished floor (see drawings). Dividing that number by the odd number, 11, gives a unit rise of 7-1/4 in. (Dividing by 9 or 10 would also give an acceptable rise for this ladder stair.)
As with a regular ladder stair, I next set up a story pole with the total rise marked in unit-rise increments.To avoid confusion, I use two colors and mark every other tread line with the same color. One color of ink will then indicate the tread heights for the right side, and the other color will be for the left.
Next, I set the right-hand carriage and the center carriage in place and transfer the heights of the right treads from the story pole onto the right carriage and the right-hand side of the center carriage. I then set up the left carriage and mark the heights of the left treads onto the left carriage and the left-hand side of center carriage.

I prefer to mortise the treads into the carriages, so my next step is setting up a router jig and cutting the mortises for treads just as I would for a regular ladder stair. After the treads are cut, the stair can be assembled and set in place.To help prevent tripping over the bottoms of the carriages, you can plumb-cut the bottom front edge of the carriage below the first tread. It's also a good idea to add a railing on at least one side as a measure of safety.
The distance between treads on a given side of an alternating-tread stair is actually twice the unit rise, which gives you more free tread area and therefore a safer stair in theory. However, everyone I know who has used one says that they take a bit of getting used to. You just have to remember to start out on the correct foot when you start climbing the stairs.
More on stair building from Fine Homebuilding:
Shop-Built Housed-Stringer Stairs
Make Stress-Relief Cuts for Stronger Stair Stringers