Design
Building Smaller, for Now
Two strategies that allow clients to live on their property before they can afford their dream house.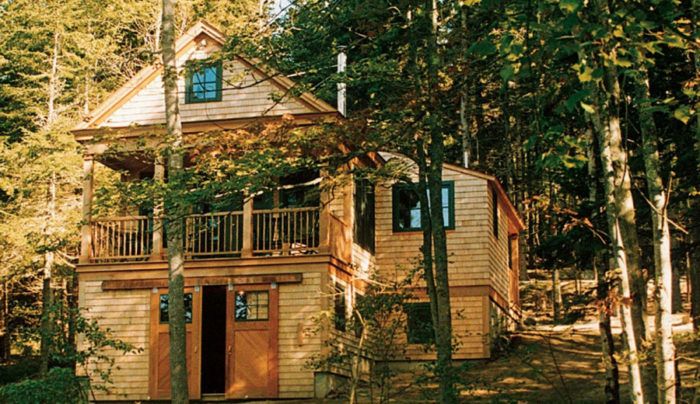 Synopsis: An architect describes two different design strategies — building a guest house first, and building only the main living area of a planned larger house — that he has used to create small but comfortable structures that can be easily expanded as the budget allows.
Most of my clients have the same problem: There just isn't enough money to build the house that they want, when they want. To build that dream house, they have to buy the property first, and it usually costs more than they've planned. There's no shame in paying for a great site; if you don't start with a great site, it's harder to end up with a house that you really love. Besides, great sites are a better long-term investment. But it's a real shame if this wonderful site can't be enjoyed because there isn't enough money left over to build the house that you want in the near term. So why not build in phases, something that you can live in now and then use in some manner later on?
The Xanadu principle
Essentially, you want a condensed design that gives you a starting point for your life on this new bit of land. In some cases, my firm tries to build less than the final project at first to make it work financially. Of course, there are tricks to building in this fashion. The project must be seen as a phased process of what will be built now and what will be built later. When doing phased work, you must carefully consider what I call the transaction cost. In dollar terms, it's simply the difference between the combined costs of phase 1 and phase 2 separately vs. the cost of doing the project all at once. A big factor in this difference is the duration of phase 1. If phase 1 lasts a short time, these costs tend to loom large. If you can live in phase 1 for some years, the inefficiency of phasing, as expressed by the added cost, becomes less important.
The biggest problem we've found with phased jobs is that there is a tendency for our clients to invest all their hopes and dreams in phase 1; we refer to this problem as the Xanadu principle. If they start by building a guest house that could grace Xanadu, it may be hard to realize that someday it will need to sit in the shadow of a more modest, if larger, house.
A couple of summers ago, my firm built two interesting houses; each tackled the problem of establishing a residence in the short run that doesn't compromise the final house. These two houses represent different strategies because they were solving two different problems: Do we really want to live here in Maine? And can we afford to live here now?
For more photos and details on building smaller for now, click the View PDF button below. 
View PDF